Miracle on Soi Rambutri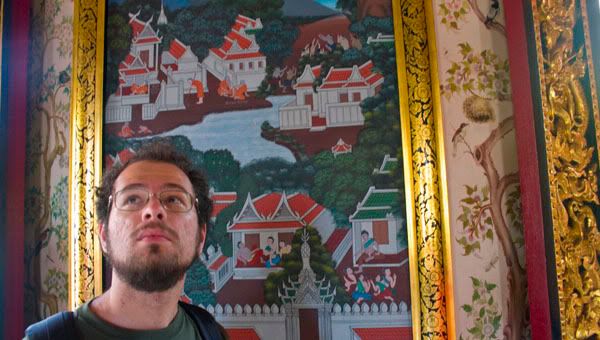 A newly arrived Matt admires the temple next to the Big Buddha in Bangkok, Thailand.
For more gold tinged photos from Thailand, click here.
After no sign of Matt last night, I once again resumed my post waiting for him at the base of the Lamphu House. Starved as I was from not eating the day before, I ordered some noodles. During my second bite, I heard my name ring out across the courtyard. Matt, indeed, had arrived.
The International Dateline isn't as simple as the CBS news show Dateline or the 1-800 Datelines you see advertised on late night TV. While it was true that Matt departed a day after me, the fact that I had already crossed the dateline eluded him. Needless to say, there was much rejoicing.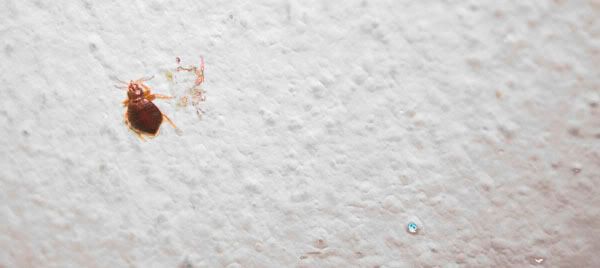 The only rooms at the Lamphu House were once again very nice ones. Due to the terrible bed bug infestation I had thwarted with 3 AM vigilance the prior night, returning to the Rambutri Village Inn was out of the question. We instead made our way just down the road to the My House Guest House, a house so housey they named it twice, or something to that effect. The room lacked in cable and A/C, but made up for it with a stunning fifth story view.
I was antsy to get wandering, and Matt seemed more than awake enough, so off to the National Museum we went. Rather than drop a few baht on a taxi or tuk tuk, we began to wander South through the University. The street as we approached was adorned with mass amount of floral set-ups, but it wasn't until we were directly in the midst of graduation did we realize the implication of our route. At one point, I was randomly accosted by a man in a large bear suit. It did not go well.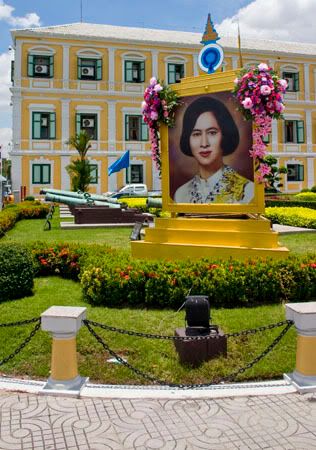 We continued on our path to the National Museum only to find an orthodox dress code in place (complete with required tefillin, but sandals were ok). They had appropriate clothing for rent, though street vendors outside made it seem as though purchasing long pants was the only option. Rather than wait in line, leaving the 100 baht deposit, we decided to continue our wandering east, toward the heart of the city.
One the map from the guidebook I spotted Wat Suthat, a small temple only a few blocks away. We detoured through the city, passed the Ministry of Defense (complete with many canons and the battleship known as the king's wife (and yes, I mean the one he's married to, not one dubbed "King's Wife").
Arriving at the temple, we were in luck as a guest monk was conducting a service. We slipped off our shoes and joined the myriad worshipers on the velvet carpet. The temple itself was housed within several walls, carefully separated by a plaza from the outer areas. Smaller shrines adorned each corner of the temple's main complex.
After taking our fill of the temple, we continued our meanderings through the city in search of the Democracy Monument. The monument itself stands in the middle of a busy rotary (or roundabout for you Brits; or circle for you non-New Englanders). We began to circle our next tourism victim like rabid vultures jonesing for their next fix, but before taking five steps a smiling man began to chat with us and offer helpful insights into the monument's extremities. Unfortunately for us, his English was moderate at best and our Thai was virtually nonexistent (we've since upgraded to "terrible and demeaning to the entire culture, but an A for effort").
Things like this being too good to be true, we soon found out the man was a tuk tuk driver and was offering us a tour of several sites for only 20 baht. After scalding my feet on the hot marble at Wat Suthat, I was ready for a break and we decided what the hell.The man explained that since Tuesday was the Queen's birthday, the government was holding a festival ending today and offering free gasoline to tuk tuk drivers and free admission to several sites. Matt and I were both rather skeptical, but you don't look a gift horse in the mouth unless you're an equestrian dentist.
As we rode from site to site, we got brief language lessons from our host. Our first lesson was to stop talking like howlies (or whatever the Thai equivalent of howlie is, as I'm always afraid to ask people to tell me the local slurs for tourists). We learned today, tomorrow, yesterday, thank you, greetings and a few other simple words and phrases which we promptly forgot.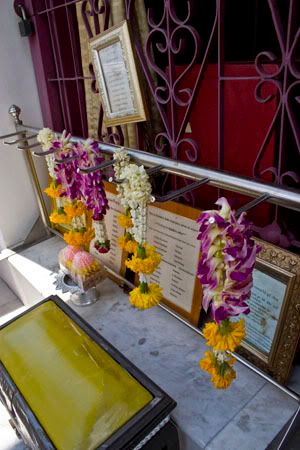 Our first stop was Loha Prasat, which the driver called "The Thousand Steps." The temple didn't seem that big from afar, but after wading past a bunch of construction and repairs on other parts of the complex, ducking past several passed out animals (and one person), and climbing several score of stairs, we found ourselves towering over the city.  The shrine at the top was locked tight and devoid of a visible buddha, but it did have several offerings left on both sides.
We took our time exploring before returning to the tuk tuk and continuing on to a small shrine referred to as "Lucky Buddha." The man who worked at the shrine told us about his family in Toronto and how the shrines were open because of a festival for the dead that happened that morning. He also informed us that there was something going on at a factory and not to buy clothes in stores as they're cheap polyester and not cashmere.
Ironically, our next stop was at a tailor shop where the tuk tuk driver asked us to look around for 5 minutes so he could get a voucher for free gas. We asked some questions, but ultimately left with the clerk feeling exasperated at our wasting his time. Lord knows neither of us need a suit for quite some time.
Feeling amply generous, the tuk tuk driver swung us by the "Tourist Authority of Thailand," which, though the main doors featured that title, went by the name of Unseen Travel within the doors. I couldn't decide if the the place was a scam or a contracted company, so we began to bounce questions off one of the workers.
After an hour there, Matt and I felt comfortable that we could get a better deal traveling through them than on our own. We decided to cut out Cambodia and Laos in exchange for some time in Southern Thailand and a jungle trek outside of Chiengmai in the North. Our stay in Thailand is now booked starting the 17th, and while I'm excited to wander on my own two feet in Europe and India, I'm glad things are more structured and figured out.
We left the tourist bureau and headed towards the Big Buddha. It was big. Very big. Too big for my camera (which almost became the title for this post). There were many worshipers and several shrines interspersed around the main courtyard. Matt and I climbed the side, but there wasn't much to see. We hopped back in the tuk tuk one more time to proceed to our final stop: The marble palace.
The driver attempted to sell us on making a stop at some factory, but we declined, choosing to head straight to Wat Benchamabophit. At that point, we paid the driver 20 baht and said adieu. The driver claimed he had gotten a call from his wife, but I suspect he simply wanted more free gas by taking us to the factory and decided not to drive us any more. I was happy to walk anyway.
The Marble palace was a lovely garden complex with, lo and behold, a marble palace in the center. Matt and I were both quite tired at this point, so we spent a few minutes wandering around before trekking it home. At one point a cop on a motorcycle pulled up to us and grilled us about why we were there. He made sure we hadn't bought anything, and despite the obvious nature of the scam, I felt no ill will to our driver. After all, we may have been taken for a ride, but we certainly weren't… taken for a ride… in the other sense. Not the one about actually riding in something.
For an arrival day, it felt like we packed in quite a lot. We've got two more days in Bangkok before making our stop at the River Kwai. I'm just happy we can now say "if all goes to plan" and actually mean it.
« Godot's Here, Yet I Wait Still…