Exchange Rate of Decay
My arrival in Bangkok was tumultuous. As I approached immigration, I saw a long line for visas on arrival. After standing in line nearly 15 minutes and filling out the form, I saw that the US wasn't on the list of countries requiring the visa. I quickly proceeded to plop myself in the standard line for incoming immigrants with foreign passports. I noticed the man in front of me also sported the stylish blue of a US passport, so I asked him about visas. He didn't know any better than I, so we laughed and chatted while the long line got shorter.
Overall the conversation was nice. the gentleman was from New York City and flying in from Kuala Lampur. He had extended a business trip to Tokyo to visit friends in Hong Kong and Singapore and was planning on continuing on to Manila next. Though his stay in Bangkok was for 4 days, he planned to "see some golden pagodas and get laid," which sounds like a solid plan as long as I ignored his previous statement that he was "glad [his] wife couldn't join him.' She's meeting him in Manila.
After briefly searching for a Tuk Tuk and/or wireless internet (of which there were five open connections, none of which worked of course), I wandered over to the exchange desk where I got .52 baht per PHP. The PHP is currently valued at 40 per American dollar. The baht is trading at 32 per American dollar. This means the exchange rate for PHP to bahts should be approximately 4 to 5. If I had traded my PHP for American dollars prior to flying to Thailand, I would have 30% more money than I do. Instead, I'm pissed, since I had no idea the Thai hated Filipinos so much.
While my mind wrapped around the math of the moment, I grabbed a cab from the Public Taxi terminal to the Lamphu House, where Matt and I planned on meeting tomorrow as of our last correspondence. If you ever find yourself at the Bangkok airport, you'll be accosted by offers of taxi rides from seemingly legitimate desks on your way out. These are limo rides, not taxis. The Public Taxis, on the other hand, are metered and have a $1.50 surcharge for being at the airport, but are much more reasonably priced. Unfortunately, the drivers also speak little to no English.
I pointed to the address I had taken down for the Lamphu House and got nods all around, but as we neared the location, the cabbie kept stopping and announcing different hotels on the same street. I couldn't figure out why until I realized he was lost. We pulled over and asked for directions, and he even attempted to call the number I had written down. Unfortunately for me, I scrawled in my book (since it's for my eyes only) and he dialed the wrong number (for some random consulate, oddly enough).
Multiple times during the trip, I commented that his meter wasn't on, but he just smiled and nodded as if he didn't understand. If there's one word a cabbie knows, it's meter. Still, he quoted me a reasonable price—one which matched up with the price Matt's dad mentioned in an email I received just moments ago—so I didn't argue.
My arrival at the Lamphu House was greeted with good and bad news. The bad news was that they hadn't received my request for a reservation. The good news was they still had one room left. The bad news was it was there deluxe sweet, far too much for me. The young lady behind the desk told me to check back in the morning around check out time to see if any openings had come up. I thanked her and asked for a recommendation for another place to stay. She just smiled and said to wander around. "There are lots of places here."
The street itself is in the Tourist District, as labeled by a sign on a remote wall around the corner (I saw it while in the taxi lost). The street is filled brimming with round-eyed whiteys, a staunch change from the very local Manila and the Korean/Japanese-infested Guam. The brick surface is reminiscent of fine pedestrian malls like Embarkadero Center in San Francisco, the Pearl Street Mall in Boulder and Government Center in Boston. Stalls selling Tiki Tiki crap line the tiny rue and many a hotel and cafe pop out with open fronts and humid offerings.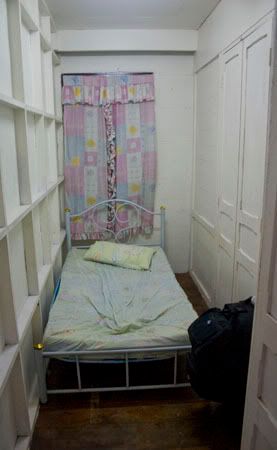 I found myself just down the block, wandering into a little place called the Mini House. As I walked up, a French couple screamed at the owner, a middle-aged Thai woman. Apparently, another worker had told them they wouldn't be charged for their first night since they arrived at 4:45 AM. The owner, meanwhile was having none of it. She ignored the creaming woman and attempted to attend to me. At first I tried to tell her to deal with the couple, but she was insistent on having me look at the room.
The bowels of the flophouse—and I refer to it thusly because it is indeed a flophouse—is made up of stalls with locking doors. The cots, which are neither soft nor well kempt, are good enough to flop on, but not good enough to enjoy. The bathrooms are clean enough, though the doors don't quite close and they have a hose instead of toilet paper, much to my chagrin (I haven't pooped since leaving Guam, though I can't decide if it's from lack of needing to or fear).
After momentary deliberation, I decided the location was fine and came back and paid the woman 200 baht for the night (approximately $6.50), content to slap myself down and finish the final two chapters of snow crash before exploring my local surroundings.
That done, I wandered here, to a mildly overpriced internet cafe (my laptop ran out of batteries) to drop an email to Hulse to let him know the status of things. The plan for tomorrow is to wake up, wander with the camera for a couple hours before returning, collecting my things and waiting at the Lamphu house to try and find a room there as well as for Matt's imminent arrival. If all goes well, we'll be lodged and visiting the National Museum tomorrow afternoon before retiring early and having a leisurely evening back at the camp.
Oh, and just for posterity, Thai Airlines is the most amazing flight I have ever had. Even in economy they offered wine and brandy free (in small doses), hot towels, and some of the most elegant uniforms I've seen.
Note to Self: Always convert money to US dollars or euros before traveling between countries.