Goodbye Guam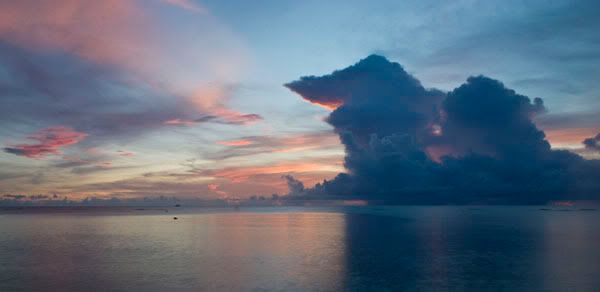 The sun sets behind some clouds in Agat on my final night on Guam.
For more distant photographs of Guam, click here.
In a scant six hours, I'll be on plane departing the island. Last night, I tossed and turned, waking every 20 minutes with nervous excitement for the resumation of my journey, yet I spent most fo the day parked on the couch avoiding packing at all costs.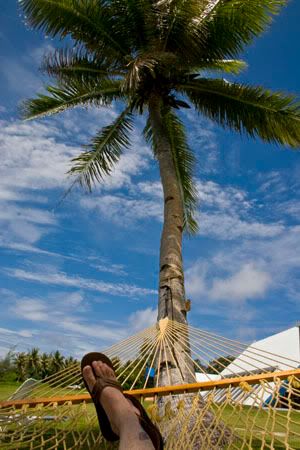 I've spent most of my time here wiling away the hours. Whether it was brief jaunts to the beach, long hikes through the jungle, days shopping at the mall, or merely crouching in front of a TV playing video games, I can hardly call my time in Guam anything but a vacation.
The odds are high that I'll never come back to Guam. Denise and Anthony are being transfered to Connecticut in November and possibly to Japan soon after. As beautiful an island as Guam is, without someone here to visit, I doubt I'd make the trip back.
Ivy, Denise's step sister, will arrive on Tuesday for a week's stay, so it's not as though my timing isn't good. And yet my second departure into the void is wrought with fear, antsyness and an almost tepid worry that wasn't there when I first embarked.
When I arrive in the Philippines for my two day layover, Jhoan has graciously offered to put me up at her small apartment. I will have a little over 48 hours before jaunting off to Bangkok to meet up with Hulse (he arrives the following morning).
From there, our plan is a hectic two week tour of Thailand, Laos and Cambodia, if it's possible to do all three in that time. If not, we may pass on Cambodia and merely lopp back through Eastern or Northern Thailand. The road is more open than it's ever been.
I have my fears—of missing a flight, of illness or disease, of theft or injury—and my hopes—of grand palaces, of exotic loves and foods, of the entire world resting in my palm. When I embarked initially, I was leaving behind Boulder and throwing myself to the wind. Tonight, I prepare to truly set sail, with nothing but a blank chart and the stars to guide me.
« In Ruins