In Ruins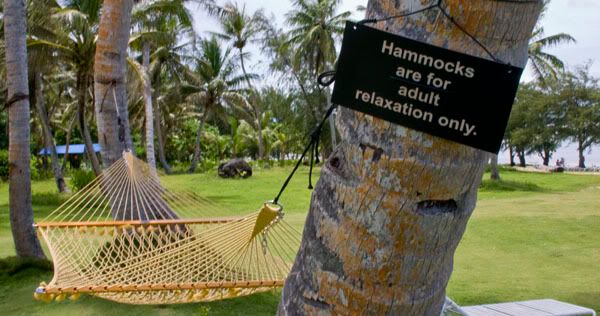 Hammocks at Jeff's Pirate Cove are clearly marked for "adult relaxation only."
For more adult pictures of Guam, click here.
As I hiked past old ordinance, decaying weapons, the rusted silhouettes of old buildings and crumbled latte
stones (that's lah-tee, not lah-tay), I began to wonder what life on Guam is truly like. Here I am, amidst the all the trappings of Western culture and American consumerism, the car graveyards on nearly every corner and the same Chamorro tropes stamped on every surface because they're all that's left of native culture. What have we done?
When the Spanish first arrived here, they decimated the Chamorro peoples. They wiped out every male Chamorro, forcing the few that survived to hide among the jungle and sneak about in the many caves. When the Japanese came, they indentured the Chamorro. Without rest from their daily toil and with internment camps at the ready, they had no choice. And then we arrived, bold faced with promises of safety and offerings of capitalism, government, and the military, which both claims much of the native lands and provides much of the local economy. What's left are scraps and I want nothing more than to point fingers at the people responsible.
I leave Guam early Sunday morning, and despite nearly two months here, I'm still unsure how I feel about this place.
On the one hand, it's laid back, and features beautiful beaches, wondrous flora and fauna, hilly valleys and amazing vistas. The people are kind and keep family and community a priority.
On the other, the roads are a congested madhouse and being here requires a cost of living driving its people to poverty. The people responsible for the modern infrastructure keeping life afloat are the same ones causing the local lifestyle to fail and disappear beneath cultural imperialism offered up.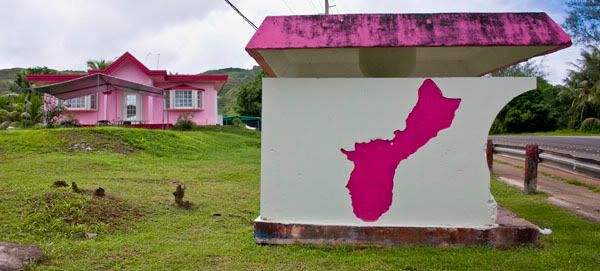 From a city planning point of view, Guam suffers from the same problems as the Western United States suffers from: spread. Unlike Europe or the East Coast, the roads and cities were designed to offer extra room and require cars (or at the very least carriages) to maneuver about in daily life. Gone are the days when we could walk to the corner store and buy the groceries we needed. Gone are the days when we walked everywhere, from our barber two blocks to the East to our church four blocks North to the general store three blocks Southwest. Gone are the days when we knew all our neighbors.
Despite the loss of culture over the years, the Chamorro have held onto their language (though it's had much Spanish introduced) and their sense of community. Being from a specific village is a matter of pride, and belonging to a community is a matter of necessity. Every town still has a local grocers at its center, but everyone seems to be struggling to stay afloat.
Denise and I have often made fun of the culture of borrowing. Wendy, whom we went hiking with early on, told us about her lawn furniture disappearing and then reappearing. One day, while driving down her street, she saw some locals in her lawn furniture in front of their house. She pulled over and walked up and said, "Those are my chairs."
"Yeah," said the Chamorro man holding a fresh kettle of stew. "We're just borrowing them. Want some food?"
The people here survive by sharing everything, and as much as we joke about drivers borrowing a lane for a while, it's an essential part of thier daily lives. While the military doles out cost of living stipends to its soldiers, seamen, and airmen, the Chamorro don't have that. Instead, they have to deal with the already high cost of living rising ever higher while surviving in a job market that's virtually nonexistent outside of military support and tourist entertainment.
Perhaps it's ironic that I feel such pain for the Chamorro people when I came from the Philippines where poverty is far more rampant and insidious. Then again, the Philippines always had hope blooming on the horizon.
The world we live in is on the verge of collapse. Oil reserves are running low while companies draw things out to turn record profits. International conglomerates are controlling more while the local businesses we once relied on are dying. And the same actions we've been taking to make our lives better may very well be responsible for worldwide disasters teetering on the edge of a full blown apocalypse.
No matter what happens, the odds are pretty good that we will find a way to overcome, most likely through new technologies. But despite their current plight, I'm beginning to wonder if the Chamorro won't be better off than we are; as much of a techie as I am, I'd rather have friends and family to rely on than some new piece of technology.