Biba Santa Ana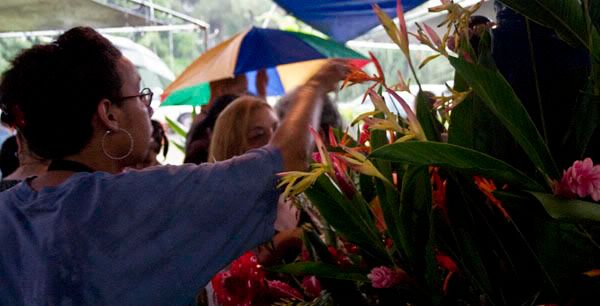 Denise reaches out to touch the idol of Santa Ana at Biba Fiestan Santa Ana in Agat, Guam.
For more rainy pictures of Guam, click here.
The word fiesta has a very Mexican image in my mind. Perhaps it's my love the Three Amigos and El Guapo's birthday that causes me to associate fiesta with pinatas, mariachi music, and general rabble rousing. Whatever the reason, not even the torrential rains could sway my excitement for the fiesta.
After missing the last fiesta due to poor (or no) planning, I was emphatic on calling the right people and finding out where Agat's Biba Fietan Santa Ana was happening. Given my schedule, it would likely be my last chance. With some careful prodding on my part, Denise took the helm and found out that the event was happening at 4:00 (mass at 3) at the only church past Nimitz Beach.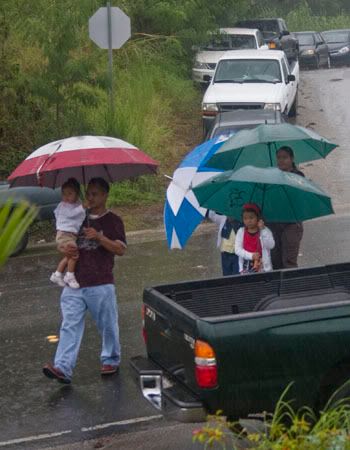 Fiestas in Guam aren't what I think of when I hear the word fiesta. They start with a Catholic mass to the saint in question, and then the partying begins. The town sponsors the fiesta with food and drink and many locals throw in by helping pay for the festivities or by bringing a dish or two of their own. Going to the mass isn't necessary, though if you show up, you're expected to eat.
Denise and I decided that we'd head over around 4:15, that way we wouldn't encroach on their mass. I'm not sure if the man on the phone had mispoken about the time frame or if the rain had pushed everything back, but we arrived just in time for the start of mass.
The Santa Ana Chapel is a small, wooden, one-room church. There are only six rows of pews and a small pulpit and altar. With well over a hundred people in attendance, the vast majority were seated on folding chairs under six tents spread around outside the church. A speaker system broadcast the mass for all to hear, assuming the rain ever quieted down.
The church itself is nearly brand new, having been dedicated and consecrated on July 11, 2008. It derives its name from Saint Anne, the mother of Mary. They had a photo of the old church from 1982, and another of its husk from 2005 right before it was demolished, but no one I asked was able to tell me if the church had been in use all that time in between.
At first, I was extremely excited to have arrived in time for mass. I ran around trying to snap photos, ducking until waterfalls cascading off the edge of the tents, but after a few minutes, I was wet, my lens was fogging up, and I was catching a few dirty looks. Not wanting to disturb the ceremony, I stood vigil next to Denise trying to shield the deflecting rain from people.
"Every time I think it can't possibly get louder, the rain finds a way to thicken," I commented to Denise.
"Maybe God's sick of prayers and is just drowning this one out," she quiped back.
Though I've attended Catholic services before, there was one novelty in the mix. About midway through, everyone started shaking hands with people around them. I asked Denise what was going on, but she had no idea either. We might've been better informed had the rain not turned the speaker system into Charlie Brown's teacher.
Ed. – At Catholic masses, somewhere before Eucharist, everyone does a 'peace be with you' say hi to everyone around you sort of thing. That's what this was although I had no idea until a few moments later. I was actually terrified it'd be like at some chuches where this part takes a long time because everyone in the church wants to say hello to everyone else. It's happened to me.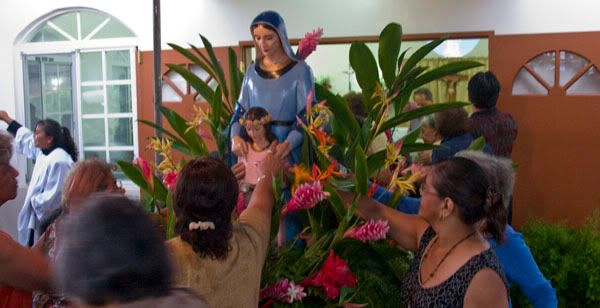 As the mass ended, many of the locals approached a centrally located statue and reached out to touch it and say a quiet prayer. Others rushed to form a large line behind the food. They had all sorts of dishes, from barbecue and breads to tin foil covered plates of cookies. The smell alone was mouth watering.
With the rain still falling and our clothes soaked, we decided to forego hanging around. We grabbed dinner on the way home before drying off and settling down for a movie and some quiet time.
The fiesta wasn't quite what I was expecting. There wasn't any rabble rousing, though many certainly had a good time. There was more than enough food, though its decadence was overshadowed by the mass of people waiting to eat. And though it was certainly a local event, religion played a much grander role than it does in the mockery that is Christmas.
Despite our early exit, it was well worth ignoring the rain. In the words of the Chamorro, Si Yu'us Ma'ase and Biba Santa Ana.