Bragging Rights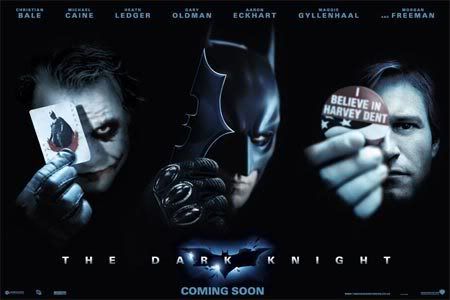 Right now, I really want to brag about how I got to see a midnight showing of The Dark Knight while most of you were still enjoying your Thursday morning coffee. Guam's slogan is "Where America's day begins!" after all.
But instead of grinning ear to ear about the movie or how early I got to see it (without a sneak preview), I'm left torn on how I feel. It's a bittersweet affair. My only spoiler free commentary will say that it's a better film than Batman Begins by far, and it's well worth seeing. It may even be the best superhero comic book movie ever, though I'm still mulling that designation.
The rest of my commentary, is spoiler laden, so tread carefully if you choose to read further.
The buzz about Heath Ledger's performance as the Joker has been all over the place. People were mentioning the big O (not orgasms or giant robot amines, but Oscar) well before the film came out. But what are we talking about here?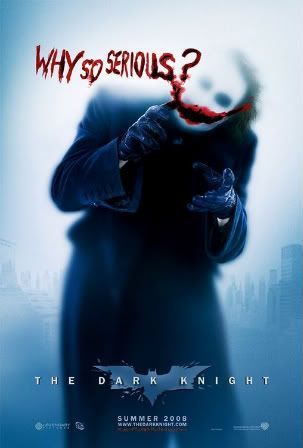 The Dark Knight isn't an artsy film with that academy award type appeal. It's a big budget summer blockbuster using tried and true heroes and villains and big name actors. So if I say I wasn't buying into the buzz, I'm sure you can see why.
Heath Ledger's Joker, however, blew me away. He was brilliant. He was maniacal. He was crazed. He was perfect. I've never actually felt so terrified of anything I've seen on film. He stole the show and deservedly so. I'm completely sold that this may be one of the greatest acting performances of all time–certainly of blockbuster films.
Ledger's initial entrance on-screen during the bank heist is understated and almost forgettable, but from his second entrance at the mob meeting till his final cackles hanging from a rope, he's stunning. If they had ended the film with him running out of the hospital in a nurses outfit, hitting that button, and cackling as Emergency hung in the background, it might have been a perfect film. Instead, we get an extra half hour of an exceptional Aaron Eckhart as Harvey Dent, the death of Rachel Dawes, Gary Oldman being threatened, and a throw away action sequence with Batman chasing down the Joker and getting to finally hear him out.
Replacing Katie Holmes with Maggie Gyllenhal was a good choice, and she did a good job with the character, but the sighs of relief when Rachel Dawes was killed off could be audibly heard in the audience. This was a character that had no part in Batman, and while she actually drove some good plot in The Dark Knight, Dawes was a useless tack-on character in Batman Begins.
I'm still not sold on Christian Bale as Batman, though his Bruce Wayne is excellent. That raspy crap he does with his voice annoyed me in Batman Begins and it reprised that role when Bale donned the cape and cowl again. Bale brings no emotion to the role. He's cold and fake and serious in a way that lacks character, which is a shame, since I've loved him in nearly every other role he's had (yes, even Harsh Times).
In the end, The Dark Knight, though a half hour too long, as most of Nolan's films seem to be, is a huge step up from Batman Begins. The biggest improvement was a coherent plot that followed from start to finish, unlike Batman Begins's helter skelter approach to having too many plot lines crisscrossing. The villians were scary and villainous and the heroes were stalwart paragons. While I'm hesistant to give it a perfect five stars, Heath Ledger's performance is good enough to mark it as the best film I've seen in ages.
« How to Properly Care For Your Nalgene