Be More Jocular, Sir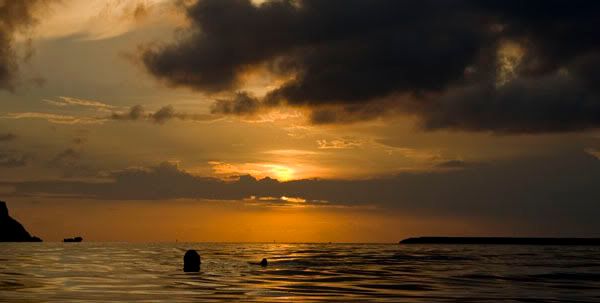 The sun sets over San Luis Beach in Guam as Denise floats in the warm water.
For more jocular pictures of Guam, click here.
I feel like I've entered the doldrums. It's not as though opportunities don't abound here, but rather that I simply haven't found the motivation to commence.
I am inspired constantly. I find myself deep in creative thought as I crawl into bed each night, ideas compounding upon one another like legos forming an elegant castle. And yet during my waking hours, I've spent my time crouched on the couch, locked on the controller and avoiding taking time at my keyboard—or better yet in the world at large.
SIDE NOTE: I don't believe in writer's block. There's never an issue with inspiration or ideas. Sure, they may not be good or come to fruition as I had hoped when I finally start writing, but there's always something to write about. Writer's block is an illusion. It's a combination of fear that what's written won't be any good and lack of motivation. Sometimes, the only thing that will get you writing is writing.
Monday was Liberation Day in Guam, celebrating the day the Americans arrived and drove the Japanese out. It's a celebration of Guam's "independence" and the military forces. Festivities start several weeks before with a carnival culminating the weekend before with a beauty pageant and more. Liberation Day itself is marked by the island's only parade, fireworks, and plenty of barbecue.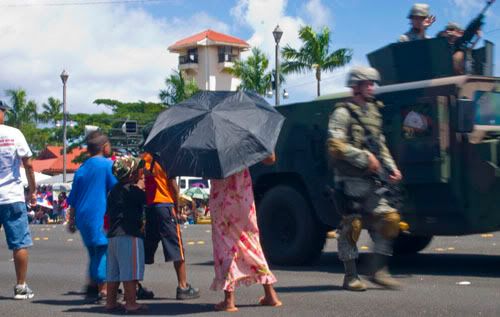 Based on the way people spoke about Liberation Day, it seemed like Guam's only real holiday. Everyone comes out and sets up tents days in advance. I was told that men in uniform can walk from tent to tent and recieve food and drink and well wishes (though many spoke of it as any American rather than those in the armed forces).
It was unfortunate that the boys from the boat had set sail on Friday, as I had been looking forward to touring the festivities with men being celebrated. Instead, it was just Denise and me. We woke up early and headed down to grab a spot right next to the governor's tent. Despite the heavy morning rain, it was sweltering and so bright that umbrellas, sunglasses, and shade were necessities. The estimated turnout was thirty thousand, nearly a fifth of the island's population, though I suspect it was less than that.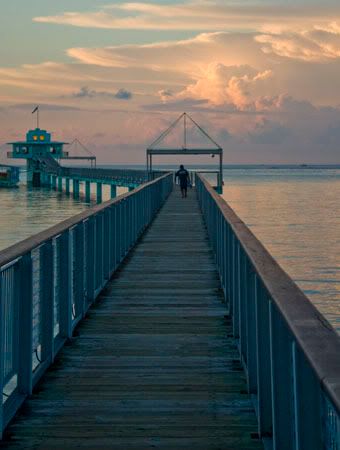 In reality, calling it a parade might be a little bit of an overstatement. All these floats line up and march down Marine Corps Drive, but most only do their thing parked right in front of the mayor's tent. There were jump ropers (not double dutch), a presentation by the head of the historical fisherman's society, a meet and greet with the Liberation Day Princess, and a performance by the marching band (which ironically didn't seem to play when marching) among other things.
By the time the two hour mark rolled around, I felt burnt and annoyed that every section was spending nearly 15 minutes in front of a tent only a handful of people could observe. I had taken plenty of pictures, though due to the brightness, I had dialed everything down a bunch, leaving most of pictures unfortunately blurry and unusable.
We went home at noon. At four PM, the parade was still blocking off the main road, despite it being a mere 50 floats or so.
Denise and Nikki then went out shopping, since Nikki was headed back to Canada for a few weeks on Wednesday. I, meanwhile, flopped on the couch and pounded through several more games on the 360. I was tired, but not enough to sleep, and not nearly motivated enough to read or write. Being housebound, it seemed like that was the best option.
Yesterday, I was similarly stuck in the house. Denise had training for work in the morning and decided to hit the pool with Nikki, and, upon returning, decided to go shopping for an iPod with Nikki at the Air Force base across island. I'm not a fan of the pool here, since it's packed with kids. They ended up at the beach anyway, which I would've been down for. The Air Force Base is a two hour drive away and features another store I'm not allowed into, so I passed on the assumption we'd grab dinner when they got back. Denise called after 3 hours and said they decided to get something on the way home, leaving me once again trapped at home.
Annoyed as I was, it's amazing how a few small things can completely shift my mood. After a mere hour of sleep, we woke up early to drive Nikki to the airport. Afterward, we zipped around to catch the sunrise on the east side of the island and made several fascinating pit stops on the way back.
Despite the lack of sleep, I feel invigorated and motivated once again. And though I know I'll nap for several hours today, I'm hopeful this feeling will remain with me when I wake up. Already, I have projects in mind. The only thing left is to do them.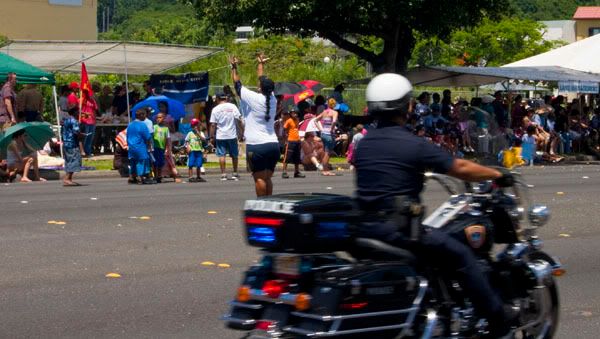 A woman dances and salutes in the middle of the parade route
while a policeman circles around to tell her to move to the side.
For more pictures, continue to the next page.
Pages: 1 2