Swing Shift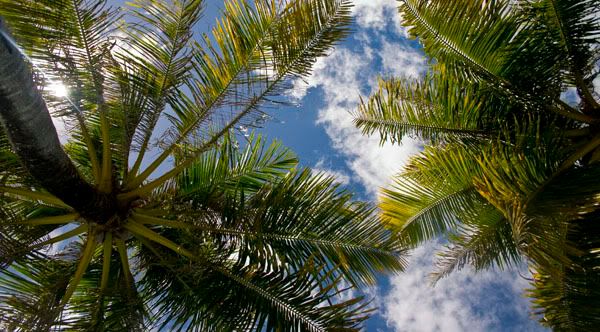 The sun shines through the palms from the clear blue sky above Guam.
For more sunny pictures from Guam, click here.
It amazes me how quickly my mood swings on Guam. One moment I'm enjoying the simple things—the breeze on my face, the warmth of the sun, the way the water laps against docks—and the next I'm bored, annoyed and ready for a change.
There's no arguing that Guam is paradise of a sort, but I'm getting more certain by the day that it's not my idea of paradise.
Anthony is still on Naval Standard Time, so I worked hard to ignore the stirring noises in the wee hours of the morning. I never quite fell back asleep, but I was at least able to loll in mock slumber for a good three hours before finally dragging myself out of bed and into the shower.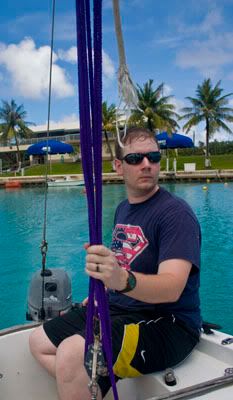 We headed to the pier to go sailing with Aaron, who's interested in buying their boat (since they aren't about to drag it to Connecticut with them). He brought his dad William, who seemed to know more about sailing than any of us, but was still about on our level.
SIDE NOTE: When I went to boarding school, I loved to sail. There was a sailing team, and while I practiced with them, I was never good enough to actually be on the team. Even in practices, I was never given captain duties, instead relegated to the crewman spot on the two-man junior flyer. The only time I got behind the tiller was when we were pirating, but that was rare and late into the spring. Whatever the case, my sailing knowledge is moderate, but still not great. Give me a few weeks on a boat, and I'd probably be able to handle it on my own.
It was a glorious day for sailing, though the wind was only moderate. We never quite got the speed I had expected. Anthony told me he never loosened the boom, instead using the motor to make it through the spots where the wind wasn't cooperating.
After about twenty minutes of sailing slowly, William began to try and loosen the boom. When Anthony noticed this, he went to put it back, but a little push from William and I got him to let up. Soon, we were moving reasonably.
We looped around the harbor before heading back in. just as we were reaching the entry to the dock, we saw a police boat and a coast guard boat heading out. A few moments later, the radio squawked at us revealing a navy ship pulling into port. Briefly, we considered heading back out to check it out, but decided against it.
In the end, the trip seemed favorable and Aaron may well buy the boat, though it'll need some work. His father, who flies back to Washington Wednesday, was a wonderful addition. I felt so inspired after we got back that Denise and I began plotting a day trip on the boat around the corner to Jan Z's, where we can dock and have lunch before sailing back.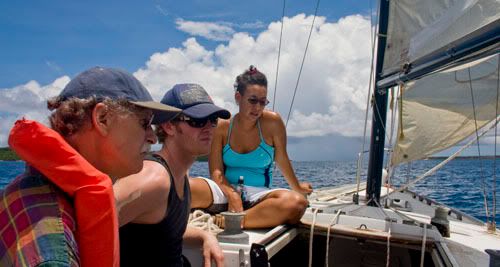 I was in high spirits upon our return from sailing and the upcoming block party taunted me with the thought of food. Denise and Anthony had made omelets for breakfast, but I wasn't up at that time, so neither of them shared my hunger. The plan was to grab a quick shower and then head over, as it was already 3 and the block party started at 2.
I figured I would check email while they cleaned up, but as Denise came to fetch me, I noticed a plate of food in her hand.
"What happened to the block party?" I asked surprised and annoyed.
"When we drove by, they were just getting set up. I figured we'd go over around 4, 4:30. Anthony and I made us some food. I was hungry. You can make yourself something if you want to join us."
I shook my head, closed my door and crawled into bed instead. I was pissed. Anthony had expressed interest in making sandwiches when we had just gotten back, but Denise had shot him down. I figured we'd eat at the block party. Instead, they didn't even ask me until they were already eating whether I cared to join them. It completely ruined my good mood.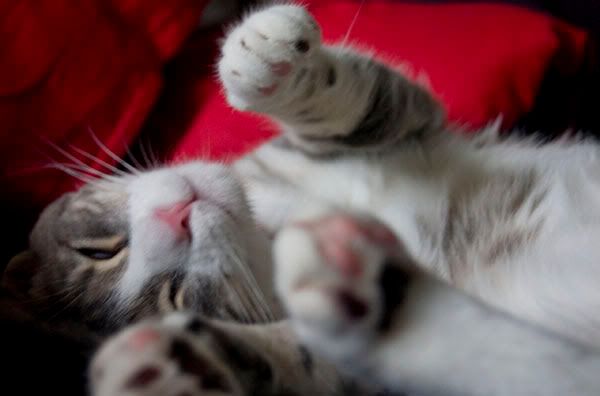 Not 10 minutes later, I was woken by a banging on the door. Carl had arrived to pick up his motorcycle (he had stored it in their garage. Since Denise and Anthony couldn't hear the door from outback, I eventually crawled out of bed and answered it after five minutes of knocking.
Carl seemed nice, but between the rude awakening and the loud motorcycle noises, I had trouble falling back asleep.
I woke up around 4:30 to find Anthony surfing the web in the living room and Denise sound asleep in their room. I waited for about an hour until Denise woke up, angry at Anthony for letting her sleep so long. Anthony didn't feel like going to the block party, so Denise and I wandered over while he ran to pick up Nosedive's Rock Band stuff for later.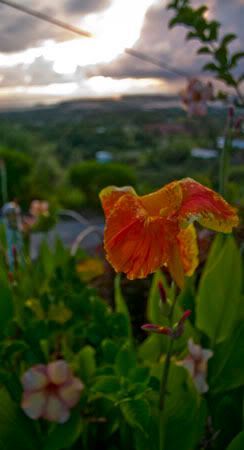 We arrived just as people started packing up. There was still food, so we grabbed what we could and hung out with a few of the people who stayed. Most of the people seemed cool and the food was good. Eventually, as things got packed up, we were loaded with leftovers to take home. Once again, I was in high spirits when we returned.
Our plan for the remainder of the evening was Rock Band with Destiny (since last night was a bust). She was talking to her husband who's in the Philippines for eight months, so Denise tossed in Burn Notice while we waited. Midway through the first episode, Destiny popped her head in and mentioned she was going to a friends for a few drinks but would be back in half an hour. That was three hours ago.
UPDATE: Destiny called. She's staying there to drink. She invited us. I could care less. I don't want to drink. It seems like that's all anyone ever does here and it sickens me. I'd be happy if I didn't hear about drinking or see liquor the remainder of my stay here.
I've never had a strong inclination to strictly schedule my life. I prefer to take my time, work on something until I'm done and then move on to the next thing when I'm good and ready. But I've generally had an idea what comes next. Here, I'm never quite sure, and not in a good way.
I generally like it when things can change at any moment. The difference here is that they're not simply changing, they're disappearing. I spend an hour waiting for something and then it's suddenly not happening. I spend a couple days hyping something in my mind and it just doesn't exist when time comes.
It's a strange thing for me to say, but I need more structure. And the only person who can do anything about it is me.