Roidrageous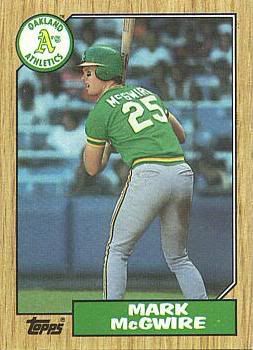 Growing up, I loved Mark McGwire. Of all the players out there, he was the nicest, the humblest, the hardest playing. And he was damn good. For years, he dominated the major leagues. He was on pace to set the single season home run record by nearly 20 in 1993 when the player's strike ended the season early, dashing his legacy. If there were one thing to complain about, it was his incessant trips to the disabled list, cutting his seasons short and preventing him from putting up insane numbers.
When the steroid scandal hit, I knew Jose Canseco was involved. I figured Barry Bonds was in. But it never crossed my mind that McGwire had participated. He was a masher when he was a skinny little guy. He had been caught with androstendione, a perfectly legal supplement, and even that he was somewhat ashamed of. He came off as a stand-up guy, and though I know I was more lenient with one of my childhood heroes than I had been with the dicks in baseball, I couldn't believe he would use steroids.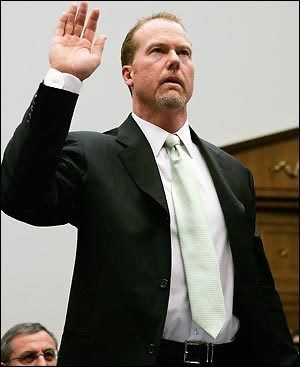 After all these things, my belief in his innocence couldn't withstand his choice not to say anything at the congressional hearing on steroids. I could respect his decision to try and make a difference in the sport by changing the future and leaving the past behind, but it all but confirmed his guilt. I argued with friends that it didn't matter if he took steroids at that point. He was retired. He wasn't playing. The past couldn't be changed.
Today, ESPN.com's Gene Wojciechowski published an editorial about McGwire's desire to get back into baseball as a coach, demanding he publicly apologize. I can't disagree more.
McGwire may well be guilty of using steroids, but he's no longer the symbol he used to be. It's been 7 years since he played baseball. Young kids who have grown up baseball fans don't even know who he is. Steroids and HGH are a continuing struggle in pro sports. There's no reason to concentrate on the offenses of over a decade ago.
Besides, we have the Roger Clemens trial and the Barry Bonds trial to deal with. If you want a villain, those two epitomize villainy. They lied on the stand, denied the truth, acted like punks and jackasses.
McGwire tried to parlay the bad press into making a difference. And congress wouldn't let him.
In the end, does it really matter whether or not he used steroids? His legacy has been tainted; his kindness forgotten in favor of his pleas for change. Do we really need to demand an answer from him before allowing him to try and make baseball better?
We can't change the past. We can, however, start trying to change the future.
« All Quiet on the Pacific Front