Welcome Home, Petty Officer Montoya.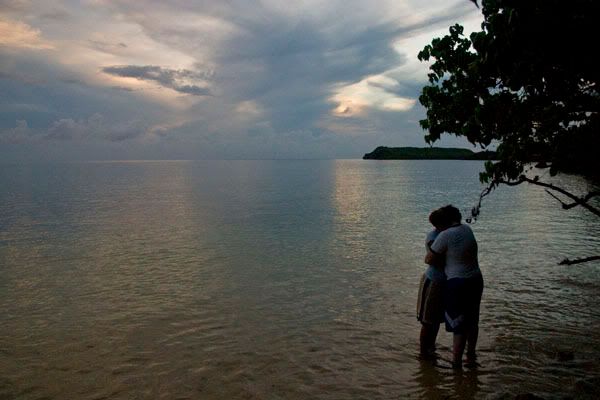 Denise and Anthony embrace at Dadi Beach on the day of the Buffalo's return.
For more heartwarming pictures from Guam, click here.
For the first time in nearly two months, the Buffalo moored at Big Navy. The last few days, people have been atwitter about the imminent arrival. Whether truth or scuttlebutt, it's all the wives can talk about.
"I hear they're going to be extended and just head straight to Japan."
"Someone told me they're only going to be in port 3 days before heading out again."
"They say they'll be back tomorrow instead of Tuesday."
Being around the wives is a little like watching Fox News nonstop. Everything is unsubstantiated, but apparently it's something everyone knows.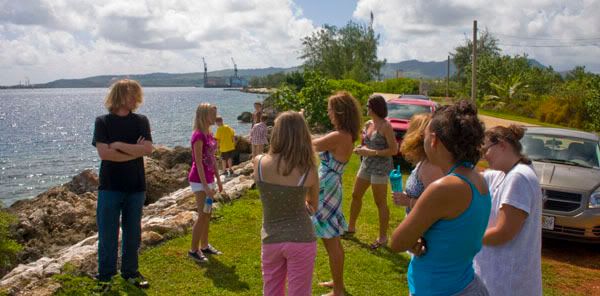 Despite being officially informed on Friday, the last days leading up to mooring are still wrought with questions. Yesterday, final word went around: The ship would come in around 10. It would be a working day, which means some of the crew wouldn't be allowed off until their shift is over.
This morning, some of the wives gathered at San Luis Beach to watch the sub get towed into port. Many of the others headed over to the pier to try and meet up with their spouses, but given the working day news, it would likely be a twenty minute reunion before their man returned to work.
Denise, Suzette (the cheif engineer's wife) and I knew this and decided to snorkel at San Luis after watching the boat go by. Suzette has been a navy wife for almost 20 years (her husband's planning on filing for retirement next year). Her outlook is to enjoy life and not sweat the strange rituals the navy performs. That includes holding men on the boat till later. It's not as if there isn't work going on out there.
Nothing gets me hungry like snorkeling, unless you count other other sports and activities. I had been jonesing for a solid burger since we got back from the Philippines, but alas, we kept eating Italian and Japanese and all sorts of other foods that didn't include a burger. As we crawled out of the water and began discussing our lunch plans, there was only one solution: Jan Z's by the Sea. Denise claims they have the best burger on island.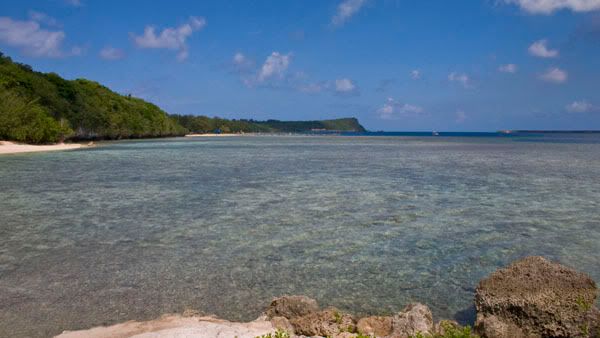 On our way off base, Denise began to get pangs of regret. What if she missed a call from Anthony? What if he were getting off right then? Maybe he wants something from Jan Z's? Knowing that it had been three weeks since their time together in the Philippines, I figured what could it hurt to go check the pier and see if we could bring him anything.
"No dependents allowed on the pier," the guard at the gate told us. "I just got the phone call." Suddenly, you could see the disappointment and longing in Denise's eyes. She went from upbeat to heartbroken without missing a beat.
We had spotted one of the other wives stalking the pier in the parking lot nearby and decided to go ask her if she knew anything. Apparently, there were other wives standing on the pier as we spoke. The boys were slated to get off in about a half hour and both she and Denise began ranting about how it was bullshit they weren't allowed on.
As some of the servicemen came off the peir with their wives and families, Denise and the other wife assaulted them with questions. "Where's my husband? Did you forget them?"
Several passing seamen headed to another boat felt sorry for them and attempted to put in a good word with the guard, though as they walked away from us, angry calls were all that could be heard. "You go put in a good word. Your car will be ok. This time."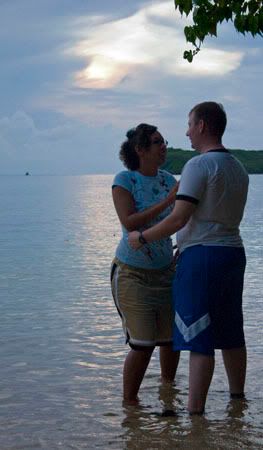 I've seen a lot of sides of Denise. I've seen her joyous, sad, depressed, miffed, annoyed, pouty, alouf, stoned, excited, and determined among others. I've never seen her bitchy the way she was today. I understand her frustration at being denied entry, but she was guaranteed to see her husband within the next few hours, which isn't much after weeks or months apart.
All morning, Denise had told me about how Suzette was level headed and clam; the way she took things in stride was so admirable and Suzette saw these things in Denise, despite being a navy wife for only a year. Yet when it came time to put her money where her mouth was, Denise deteriorated into a prickly ball of selfish indignation just like the other wives.
Then Anthony walked out. And just like that it was gone.
In my time here, I've heard a lot of complaining about how marriages are failing and wives are cruel, selfish and catty. I've watched the hypocrisy of Denise and Nikki gossiping about women while complaining that everyone's a gossip and pointing out how much better than them they are. I've seen Nikki argue that her pain is greater than a friends because her husband is gone longer. And it sits there right beneath the surface, hidden behind alcohol induced episodes and escapist activities.
Watching Denise go from seething bitch to bubbly loving wife makes me wonder if Anthony actually knows his wife. When he walks in, she's a different person, and perhaps that's why she married him. But I worry that the incredibly joy of reuniting is masking issues none of us know are there. It certainly is for other wives.
For the sunset tonight, the three of us walked down to Dadi Beach. Unfortunately, it faces Southeast rather than West, so there wasn't much of a view. But seeing Denise and Anthony happy together left a lasting impression in my mind.
I can only hope their happiness lasts. I must admit that despite my doubts, I'm quite optimistic