Guam Doesn't Have a Governator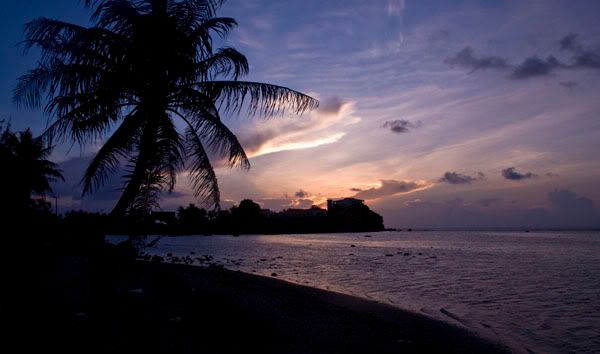 Tonight's sunset is brought to you by Guam's Governor's Complex, silhouetted in the background.
For more political pictures of Guam, click here.
It was a rather uneventful day here. We woke up late, watched Hustle and Flow, and went snorkeling. My mask fogged up while in the water, so I tried to fix it and ended up stinging my eyes with saltwater. Also, while my new water shoes fit great, I've realized my flippers are too narrow. Unfortunately they're the widest pair offered here. It's like wearing ski boots that don't fit right; my feet are sore after only a half hour of moderate use.
Tonight we headed out to catch the sunset with Nikki (pictured with Denise below) before playing putt putt golf at Putts Up (hahaha, that's such a hilarious name, oh em gee) and then grabbing dinner at a mediocre Japanese restaurant we will, in the future, avoid. The putt putt place was tiny, and is the only one on the island. The people there were very nice, but I don't think I'll be going back.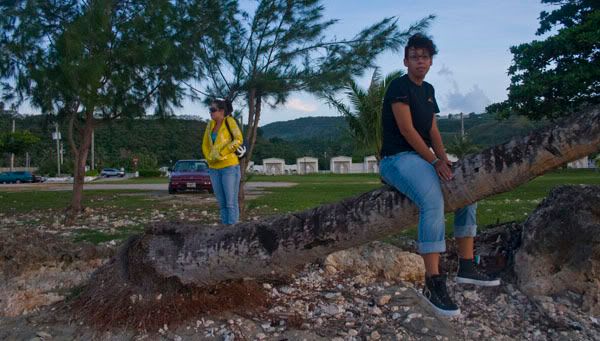 Oh, and we saw a barbie dismantled. That was nice.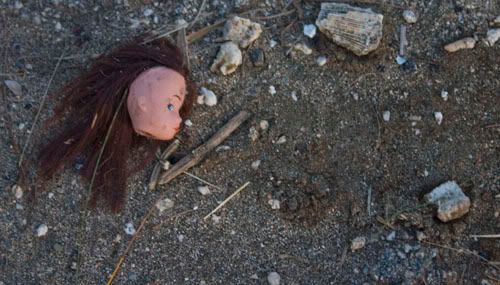 « Guns, Powder, and a Hospital