Guns, Powder, and a Hospital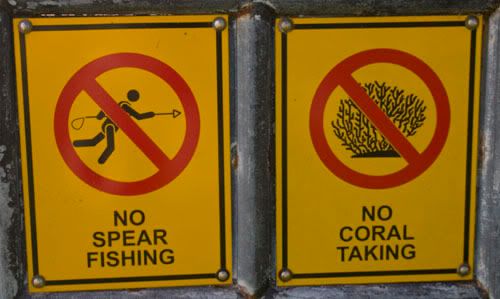 Gun Beach in Tuman features this warning sign not to spear fish. Normal fishing is ok, though.
For more dangerous pictures of Guam, click here.
Due to some strange antics last night, yesterday's pictures are here a day late. I won't be discussing the antics of yesterday or last night, but I will caption the following pictures for you.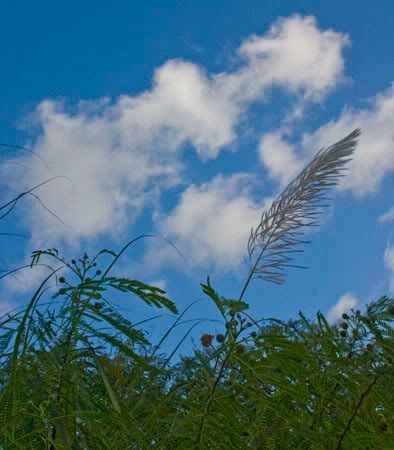 With time to spare on our way to a wine tasting, Denise and I
made a random stop at Gun Beach in Tuman. It took a long
walk down a dirt road to arrive at the beach proper.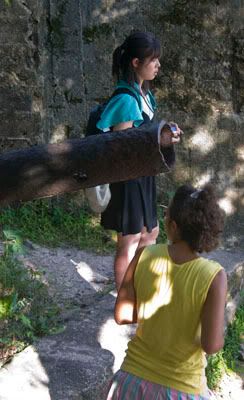 Gun Beach was filled with tourists. This one was taking a picture
of another one while he took a picture of her taking a picture
while standing next to one of Gun Beaches guns. Denise was
oblivious.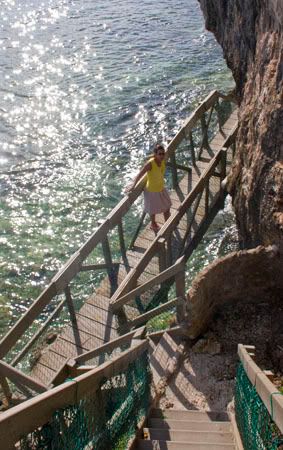 With Gun Beach a bust, we found a pathway through some jungle,
along a cliff front and around the corner to another beach.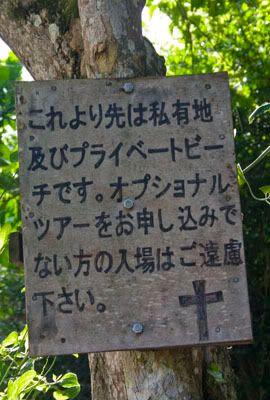 At the head of the trail to the other beach is this sign.
Denise translated it as saying: "Don't go down this trail
unless you have paid for the extra tour." I translated it
as saying, "If you can read this, you can't go here. Sincerely
Yours, Jesus." Then we followed the trail.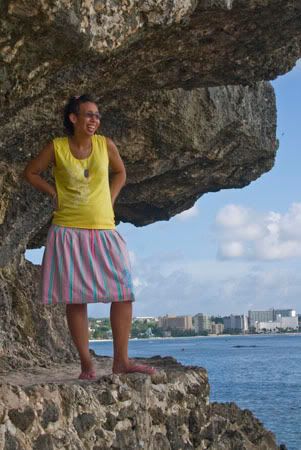 As we came around the bend, there was this beautiful pathway carved
into the rock face of the cliff. Denise certainly appeared to enjoy it.

Here's an indication of some of the islands more deadly diseases.
As we found out the hard way, Guam has crabs. The earthquakes
are God's way of scratching. It's very sad.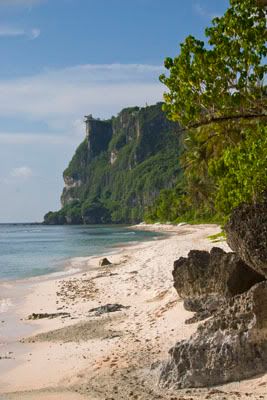 Off in the distance, Two Lovers Point was visible. The story goes
that two star-crossed lovers committed suicide with their hair tied
together by jumping off this point. Years later, the Spin Doctors
would cause many people to imitate this while listening to Two Princes.

The other beach, which is known as Faifai Powder Beach, is much
nicer than Gun Beach. Not only is the sand softer and the population
smaller, but the it has beautiful vistas that don't include giant hotels.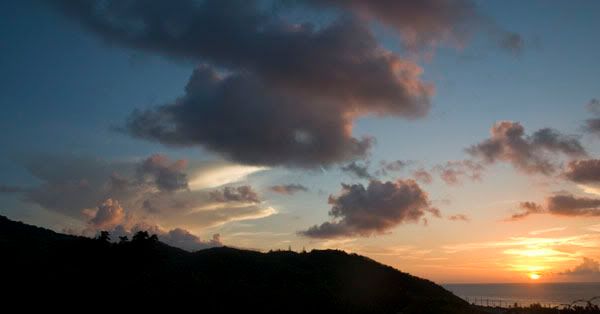 For the sunset, we drove onto the military base again to try
and capture what it's like to be a wife. Unfortunately, all I
was able to capture was more beautiful pictures.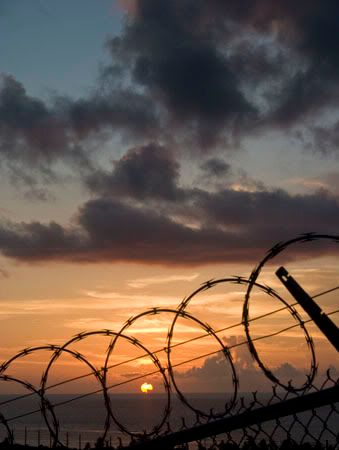 And some of the razor wire keeping the man in and the
sunset out.