Bag, Ma'am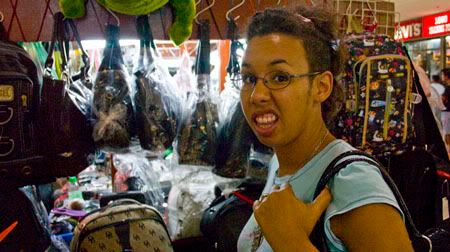 Denise sneers about the bag stalls at a mall in Manila.
For all the bagalicious photos from the Philippines, click here.
Perhaps the people she's been hanging out with were rubbing off on her. Or maybe she's always been like that and I just hadn't noticed. Whatever the reason, I was surprised at just how fashion conscious Denise had become since I last hung out with her, our grubby sweatpants caked with the sweat of stoned afternoons and video games.
As we wandered the mall, Denise had one thing on her mind: purses. In the Philippines, purses are called bags (pronounced sharply as "bah-G," with a very hard g clipping the end). As I've mentioned before, the malls in the Philippines have these little stalls of merchandize grouped together like a small market. All the items are negotiable in price, and the curators of these stalls are at the ready with calls to buy from them.
Only a few steps between these stalls and already the calls were coming. "Suhr, you like watch?" "Ma'am, we have wallet, bag!" "Suhr, belt, wallet, watch! Good price!" I kept my eyes on the items despite several attempts to phycially pull me into a stall by clerks.
Each stall was specific to the item offered. One would have hundreds of purses lining the walls. Another would have cheap flips flops. A third would have leather wallets and belts. Occasionally, one would have a few other items mixed in. Rob found a necktie, hankercheif, and cufflinks combo box. I, on the other hand, didn't want a thing.
As we rounded a corner, we came across a stall brimming with purses. They had knock-off Chanel, Louis Viutton, Guess, and any brand you could think to name. From a cursory glance, the items looked fine, but upon further inspection, frayed strings and other flaws were readily apparant.
Denise leaned in to take a closer look at a black Chanel purse when the clerk noticed us.
"Ma'am!" she said with a religious fervor reserved for last minute prayers. We turned, our attention fully on her. She opened her mouth, but said nothing for a moment. With a flourish, indicating the wares which we were already inspecting, she said, "Bag?"
Bag. As far as our eyes could see, bags made up the entirety of our view. Yet somehow, realizing we were foreigners, she was at a loss for words.
Denise turned, her laugher stifled in her hand as she stumbled away from the stall. The woman, still looking expectantly at me, just stared.
I smiled and said, "Thank you," before following Denise's giggles around the corner to another stall.