Clouded Days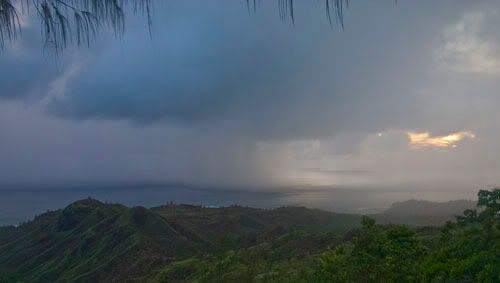 A storm rolls across the ocean just off Cetti Bay in Southern Guam.
For more wet photos of Guam, click here.
When I knew I was going to be in Guam nearly two months, I had three goals in mind:
Learn to Surf — I've learned that surfing is difficult in Guam. Most of the beaches have a large coral reef that extends several hundred feet from the beach. The upside is that beaches are kid friendly and you can go far into the water without threat of drowning. The downside is that where the reef ends, the ripe tide is so strong that the area is sometimes referred to as the "death zone." That means surfing, even small waves, is very dangerous.
Write a Novel — The second installment of Ace Harmon has been bouncing around my head for nearly a year now and I haven't been able to get it down on paper. I also have a werewolf screenplay that's been careening around the dark areas of my mind and a fairy tale which is partially posted on LiveJournal to finish. If I can finish a rough draft of one of these projects while I'm here (none of which I've worked on since I've arrived), I'll be happy.
Entertain Denise — As you may have gathered from my previous posts, Guam may be an amazing place to be for a few weeks, but it's not an easy place to be for extended periods. My final goal is to keep Denise entertained while Anthony is away (and even while he's here). This means keeping her snorkeling, swimming, hiking and doing all sorts of things I want to do. She has fun doing them, she just doesn't have a whole lot of drive on her own.
Given what I've learned about surfing, it doesn't seem viable to learn to surf again while I'm here. Surf board rental fees would be far too high and a used surf board runs a couple hundred dollars at least. Plus, given what I've sunk into snorkel gear, I should be happy enough just swimming around with the fishies.
And with that knowledge my goals needed to be updated:
Snorkel 20 times — At $180, the cost of my snorkel gear is enough that if I snorkel less than 20 times, I would've saved money renting equipment each time I went out. Admittedly, it would be a shittier mask and snorkel, since they only rent the cheap stuff, and I still would've had to sink $25 into water shoes, but I'm thinking about my snorkel gear the same way I think about a ski pass: go enough that the pass is mathematically worth it. When I leave, the flippers, mask and snorkel will stay here for Anthony, so they should get more than enough use to make up for the cost anyway.
Write a Novel — Same as above. I may have wasted a week, but when things calm down in a week or two, I'll hunker down and get to work.
Entertain Denise — Same as above.
Watch the Sunset from a Different Beach Each Night — Perhaps beach is the wrong word, since I'm also including mountaintops and scenic overlooks. Plus not every beach has a view of the sunset. Still, if I can get Denise to head out to a different place each night for the sunset, I can guarantee I'll get a few good pictures every day. Even though it rained, you can see the result of tonight's effort above.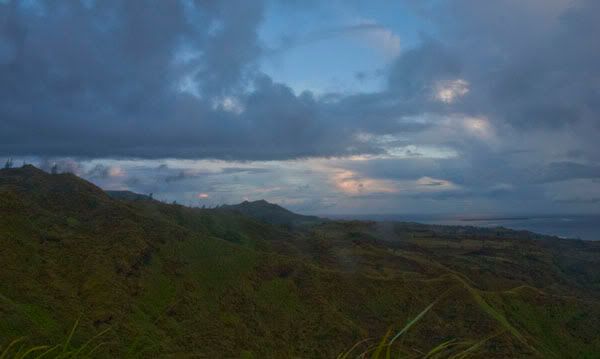 There are still a few smaller items which don't get their own bullet points too: go to a fiesta, go around the island, experience Liberation Day, and chill at the Chamorro Village among them. Regardless, with a plan set in recommended style, I feel better about the next 7 weeks ahead.
Tonight, we spent sunset at Cetti Bay. Cetti Bay is a traditional homeland of Chamorro for over 3000 years. According to the wonderful sign (woodcut pictured below), pottery shards and other ancient evidence of the Chamorro can be found all around. While I had hoped for clear skies, the rain was refreshing and view still amazing.
Tomorrow, we wake up early and try and grab some cheap shoes from Ross that I can destroy on the hike through the caves on Thursday. Then we head out and snorkel by Fish Eye, a tourist trap with lots of pretty fish that's free for snorkelers.
Another brief addendum on that note, I got my water shoes replaced with a size 11. They're tight, but I feel better about them. Hopefully they'll hold up a little longer than my last pair.