Rainy Season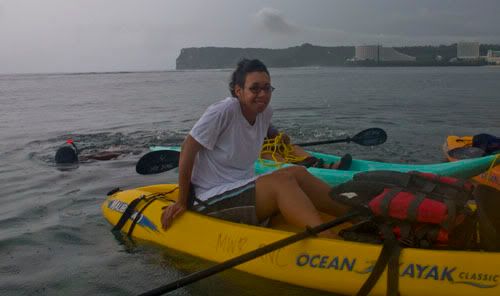 Denise sits in the kayak as I stand painfully on coral snapping a picture and trying not to fall.
For more absurd photos from Guam, click here.
The kayaking trip today was good. Unfortunately, it was also pouring. Apparently, there's a typhoon in the Philippines currently. It's so bad, it capsized a ferry carrying more than 700 people and only 7 (3 living, 4 dead) have been found.
When we left for the meeting spot, the sky was overcast and it had already been raining for several hours. Lucky for us, it had stopped by the time we got to Rec N' Crew. As we paid our dues and turned around to get our gear, we saw the rain was suddenly coming down like no storm I've been in for years.
The entire van ride over, I tried to shake off the chills, but the rain simply wouldn't cease. Therese, our guide, asked us whether we were still interested in going despite the rain. Denise and I both said no, but the rest of the group overruled us with gung ho agreement.
As we arrived at the beach, the rain had let up slightly. I repacked my camera, hoping that the sun would come out, or at least the rain would stay away long enough to get some pictures. Alas, it was not to be.
The rain came down steadily as we made our way along the beach. Eventually, we hopped in the water and snorkeled for a half hour. As I waited to hop back in my kayak, a wave threw me against the coral, leaving several gashes in my ankle.
SIDE NOTE: The snorkeling package Denise and I picked up was $180, which is a lot, but it's worth it. You get a good mask, a snorkel, flippers of your choice, and a pair of felt bottomed (for coral) reef shoes. When purchasing all this for such an exorbitant Guam-rated fee, I made sure to ask about the durability of the shoes. "They'll last 3 years, which is about as long as the regular shoes," they told me. Already, they're falling apart. I've worn them twice. I'm not sure they'll last the week at this rate.
We pulled back into the beach just before 11 AM, a mere 3 and half hours before the trip was scheduled to end. I had a good time despite bleeding on the kayak. I was tired, cold and sore, but I still felt as though the trip wasn't all it should've been.
"So," asked Therese, "what are you feeling for lunch?"
Denise and I had made a lunch of sandwiches for the trip, since Rec N' Crew had told us we should, since there would be no lunch on the trip. The others had not planned ahead like that, so they voted for a noodle place.
I was ready to sit in the van and eat sandwiches defiantly when Denise said she loved that noodle place and asked Therese to cover us. I'd have rather gone back to base, but once again, I was overruled.
We ate noodles, our clothes still dripping, as I asked Therese (a native Chamorro) about what I should do while I'm here. Our sandwiches sat lonely in the van, consoling themselves on being passed up.
On the way home, we swung through a few local spots as Therese pointed out activities to try and places to see. It was almost like being on a perfect tour, except cold, wet and tired. I still appreciated the effort.
By the time we got back, it was nearing 1 in the afternoon and Denise was ready for a nap. I, meanwhile, was ready to go the dive shop and rip them a new asshole for selling me shitty boots. Instead, with Denise's desire for silence while she sleeps, I crawled into bed and found myself napping for most of the afternoon.
When we woke up, Nosedive (the other Ben) and Nikki joined us for some grilling. I enjoy both of them, but it sometimes feels as though there's only a day or two worth of conversation to have. Since I've been here, I feel as though I'm having the same 15 conversations over and over again.
I wish I had more pictures from kayaking, but I was scared of getting my camera any wetter than it already was. I can only hope the next time I go out, it'll be as pretty as it was before.