All Is Not Well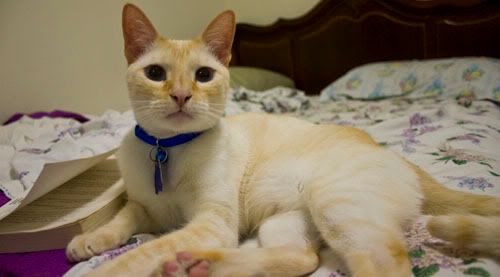 Harley, one of Denise's cats, poses on my bed.
For more pictures from Guam, click here
When I was a small boy, the immunologist diagnosed me with two allergies: dust and cats. The latter upset my parents, since we had owned cats since before I was born. "Don't worry," the doctor said. "It's a minor allergy. It should barely affect him. And he may grow out of it." My family kept our cats, and all seemed well.
Before going to Israel when I was 16, I was checked out again. When the results came back, my allergy to cats wasn't listed. I was proud and happy. Since I was a child, the cats had slept in my room with me, played with me, shared snacks with me and comforted me when I was sad. I wanted so much to know that my future with them was secure.
And then I went off to college. There were no pets allowed in the dorms. I moved off campus the next year and I knew I couldn't afford a cat. When I finally could, I found out my roommates were allergic. All through my time in Boulder, I've always had at least one roommate who was allergic to cats.
Visiting home after these years without cats, I'd find my nose stuffing up and my eyes getting puffy. Perhaps I had grown unaccustomed. Or maybe I was just getting sick.
Denise has two beautiful kittens. It's so warm here, I sleep with my door open to increase the aircon coming into my room. Harley often crawls into bed with me. Hooker does occasionally as well. It's like a taste of being home again.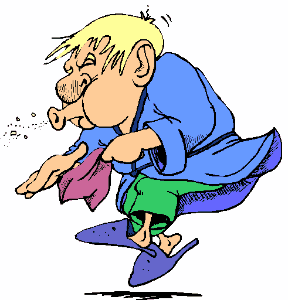 I awoke this morning with a runny nose. Normally, I blow my nose soon after I wake up and it remains clear for the day. Today, it was stuffed again only a few minutes later. I began to worry my allergies were back; perhaps being unaccustomed to cats has allowed for my allergies to grow to a point I can no longer ignore.
The last day we were in the Philippines, Denise commented that she was afraid she was getting sick. Her throat was sore. 24 hours later, as I waited for my plane, my throat was sore too. By my second morening here, my sore throat had gone and I was hopeful I had avoided sickness.
Tonight, my nose started running on overdrive. It's the linchpin in proving I have a cold and it's not a return of allergies. Tomorrow, I wake up early to watch Game 6 of the NBA championship. Hopefully, my runny nose will be gone and my head will be more firmly attached to my body.
At the very least, if I'm sick, I have two months to get better and see the rest of Guam. That's enough time for a lifetime of sickness.
« Jumping Through Hoops Abroad