Airport Hijinks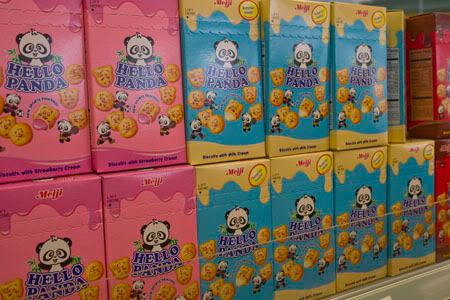 Hello Panda Cookies sit on the shelf at a rest stop outside Manila.
Note that all the photos on this entry actually have little to do with the entry.
For all my photos from the Philippines, click here.
There's a mix of fear and excitement anytime I start a new journey. In addition to the sadness (or elation in some cases) that I feel about the end of the last journey, there's a sudden worry of what might go wrong.
Today was a perfect example of events that accentuated this fear, only to have it allayed the further along I got.
With all of us congregated once again in Manila, our last night was spent wandering a mall briefly and then hanging out in the hotel room. Denise and Rob had a 3 AM wake-up call, so we got a few beers and they chose to simply stay up the few hours until the flight. Denise had only figured out the day before that she'd have an 8 hour layover in Japan with Rob before traveling the rest of the way to Guam on her own. Jhoan and I didn't quite stay awake the entire time, though when the wake-up call came, we joined them for a brief breakfast of toast and eggs and saw them off into the airport shuttle.
Robbie, Vickie and Frederick were the next batch out, with wake-up at 5 and a shuttle to the airport at 6. Despite Jhoan and I staying awake between breakfast and their wake-up call, I chose to roll over and drop into slumberland without saying my goodbyes. I was half-awake when Jhoan and Bandit came back and crawled into bed.
Bandit, who had come to Manila to see everyone off, was slated to catch a bus back up to Angeles at 8:30. I completely slept through her departure.
Jhoan and I were woken up by a call from Denise around 11. She and Rob had boarded the flight to Japan, taken off, circled around and landed in Manila again. They unloaded everyone and Rob got on a different flight to Japan while Denise was left with security while they tried to figure out what to with her. She told me she inquired if she could get on the same flight as me, but was informed that flight didn't exist and it only happened on Wednesday. Needless to say, I was suddenly very worried.
I busted downstairs and hopped online, immediately pulling up my itinerary in my email. With the flight number and time now noted, I checked the flight status. Everything seemed perfectly fine. I jotted down my ticket number and confirmation, paid for my glass of mango juice (I felt bad taking up a table in the restaurant without ordering anything), and ran back upstairs to anxiously await Denise's call (she only had phone cards, no cell or number we could call her at).
My heart skipped a beat when the phone rang. As I fed her the info on my flight, she told me she'd see if she could get on it and would call back shortly. In less than 5 minutes, she called again. The people at the counter were gone. She wasn't sure what to do. I told her to talk to security, see what she could find out and let me know.
When we next heard from Denise, I was in the shower. I snatched a towel and ducked out to find out what was going on. Since my flight was Philippine Airlines, it was a completely different terminal than her Northwest flight, which meant she couldn't get on the other flight. They had, however, set her up in the First Class lounge with free WiFi. Since she'd be online, I told her I'd check in when I went downstairs for lunch.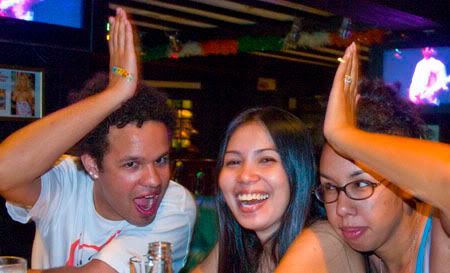 After an hour, I was up online checking things out. Denise told me they couldn't confirm I was on my alleged flight and that the people at the counter said I should call and make sure. Denise, on the other hand, had been set up with a nonstop flight to Guam leaving at 7:45, a mere 3 hours before my flight. Everything, it seemed, was falling into place again, plus or minus a few hours of sleep. With her laptop battery dying and her charger checked in her luggage, Denise went to lay down for a nap. Jhoan, hearing this, thought this sounded like a good idea.
Before we finished our lunch and packed up my laptop, I gave Philippine Airlines a call and found my flight all good to go. We headed back to the room to pack up the last of my things and clean house a bit. It was still a good 5 hours until the shuttle to the airport, so I watched The Benchwarmers on HBO Asia while Jhoan napped.
When she woke up, slightly refreshed, there wasn't time for anything too impressive. Another trip to the mall felt like it would be a waste (especially after I spent 2 hours fixing a 2 GB flash drive we picked up the night before–fucking knock offs), so we just hung out. I had originally wanted to make it to a local park to take some pictures, but it was already getting dark. I wasn't exactly in a site seeing mood anyway.
---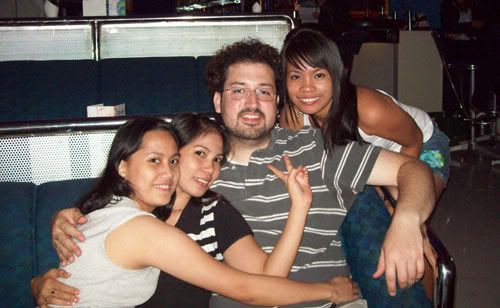 It was time to go before I knew what had happened, the last couple hours of relaxation sliding by with the Celtics upset on in the background. The shuttle over was smooth, but my arrival at the airport found a few hitches right away.
Despite having written down my e-ticket info, the Manila airport wouldn't even let me into the terminal to a ticket counter. Unlike US airports, where security really begins after you're all checked in, the Manila airport has a cursory security check at the front door. They sent me over to the Philippine Airlines ticket office two doors down and, after passing through another cursory security check and a bag scan and pat down, I stood in line for 10 minutes before quickly having my ticket printed.
Armed with my proper paperwork, I walked back to the first security check. They didn't even open my passport, simply glancing at my ticket and letting me through. From there, I was sent to a second security station, once again with a bag scan and pat down. Finally, I was inside the building.
The guard just inside the door pointed me to the proper counter (they have a different one for each flight rather than all flights for a specific airline being at one desk). I noticed, as I stood in line waiting, that check-in requires showing the credit card used, or at least a photocopy of the card and of picture ID of the person if they're not with you. Knowing I had neither of these (nor would I feel comfortable having photocopies of my mom's ID and American Express card), I began to fret.
The guy at the counter passed me through without incident, even offering me an emergency row given my height, and sent me along to the airport fee counter. Every airport I've walked in to, and the docks for the Bohol boat, have had a "terminal fee." Ranging from 40 pesos (less than a buck for the docks) to 750 pesos (or $16.90 according to the sign for international departures), terminal fees seem the name of the game around here. After paying, they attach a small slip to your ticket to indicate you can pass the next gate.
It took nearly 10 minutes to get through the line at the terminal fee counter, and as soon as I was done and through, I was tossed into another line for customs and immigration. After 15 minutes in that line, I was told I needed to fill out a form the guy at the check-in counter should've given me. Since he didn't, I had to get out of line, go back and get one before standing in line again. I was pissed.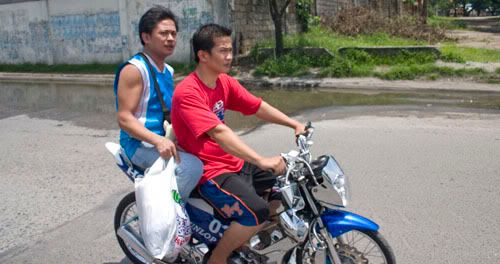 After another 20 minute stay in line (the lines had gotten longer), I was passed through customs, properly stamped, and sent on to another security check point. This one required all metal, including belts, change and wallets, bags, and shoes be sent through the scanner. As I went to walk through the scanner and prepare for my pat down, one of the guards started yelling at me to take off my visor and glasses or face the consequences. I readily complied, my level of annoyance quickly rising beyond my normal limits.
My visor and glasses were deemed sanitary and safe and I found myself at the gates at last… or so I thought.
Unsure where to go, I asked another guard by the screening. He pointed me towards a long line with a sign naming my flight and another flight. I wasn't about to stand in another line unnecessarily, so I walked right past it until I realized there were checkpoints for other flights further down and naught else. Reluctantly, I returned and got in line.
The security checkpoint at the gate asked for shoes, hat, and bag only. When I sent this stuff through, I came around to a man with a hand scanner. He held out a bin for everything not sent through the machine and I stood in my stockinged feet on a wooden box as he scanned me.
My seventh security check still didn't find anything, so I was a little curious how my smuggled bomb had made it this far. Sadly, when I checked my anus, I realized I had forgotten the bomb at home. This is what happens when you join a cut-rate terrorist organization (The People's Liberation Front of Judea).
It's now 9:30, and I'm sitting on hard metal seats. I can't use a bathroom or get a drink without passing through security again. The plane is supposed to board in about 30 minutes or so, and in another 30, we'll be underway. I expect to sleep like a baby.
In two months, I'll be back to the Philippines for a few days to pick up where I left off on my round the world ticket. And though it'll only be for a few days, I know when I get here I'll have friends waiting for me.
In the meantime, I'm looking forward to doing some snorkeling, celebrating Liberation Day, learning to surf, and having a nice quiet stay in Guam. The only question now is whether it'll be cheaper to buy a surf board or rent one.