Bohol, the Promised Land


The sky is framed above a well at the Chocolate Hills, Bohol.
For more images from Bohol and the PI, click here.
There have been very few things I've insisted on this trip. Making it to the island of Bohol was the big one.
We woke up at six in the morning, a combination of Rob's alarm clock and the 10-year old Frederick ringing the doorbell and then immediately bursting into the room shouting, "Are you awake!? Come on, get up!" This did not please me. Our plan to snooze for a half hour or so was busted.
After a quick breakfast in the hotel restaurant, we grabbed our gear, hopped a taxi to the docks and began to pray they had tickets on the SuperCat. Uncle Robbie was scared they'd be sold out. The previous night, he'd been insisting we drop 3000 PHP per person (around $70 each) for tickets and a tour. With Robbie and Frederick having bowed out, we decided to go a la carte for our trip to Bohol.
When we arrived at the terminal, the place was busy. I honestly didn't expect it to be hopping like that at 7:30 in the morning. For some reason, however, the SuperCat line was completely empty. As we passed through security, several people tried to sell us tours of Bohol for 2500 PHP per person. Combined with the 800 pesos for our SuperCat tickets and the cab fare, that would put our total well over the 3000 we were quoted the previous night.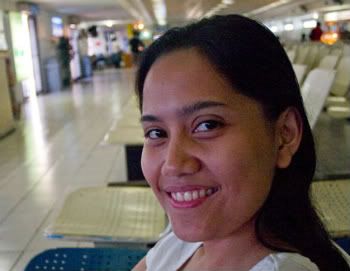 By the time we got on the boat, Rob was ready to flop over and crash out for the two hour long ferry ride. Denise, meanwhile, climbed up front and watched their chosen movie (Vince Vaughn's The Break Up). All I really wanted to do was go outside and take pictures on the trip over, but the SuperCat has no deck, nor does it allows passengers outside the cabin.
We arrived in Bohol to the typical calls of taxis and beggars. There were also rows of cabbies offering tours with laminated signs picturing their chosen destinations. Most seemed to have at least 6-8 stops, though I didn't look closely as Jhoan led us past the throngs of offers and into the tourism office.
Inside, the tourism desk clerk told us he could get us a tour for 2500 PHP, not including the cost of lunch. I was kind of miffed that it would be that expensive until we figured out it was 2500 for the lot of us and not 2500 each. In addition, he said, we could cut things short, skip locations, and take our time as long as we were back around 5ish. Suddenly, our choice to go a la carte was looking pretty good.
We shuffled into the van as our driver explained that the Chocolate Hills, the most famous landmark on the island of Bohol would be our final stop, since it's an hour's drive away. Along the way, we'd visit several historical sites, a few tourist traps and do lunch before getting to the Chocolate Hills in the late afternoon. Immediately, we started asking him if we could do the Chocolate Hills first.
SIDE NOTE: The worst part about being a tourist is that it often seems I get roped into plans I don't like. Tours often only work one way, and if you want it different, you have to pay through the nose. When I explained our plan to the others and sold them on Bohol, I figured we'd see the Chocolate Hills, do lunch, and then hit a beach for the afternoon. These tours said nothing about a beach, and included so many other stops, it was almost as I was forfeiting my plan.
We were pleasantly surprised when our driver nodded his agreement and began the long drive to the middle of Bohol. I tried turning on the radio, but the reception was so bad I turned it off for the duration a few minutes later.
---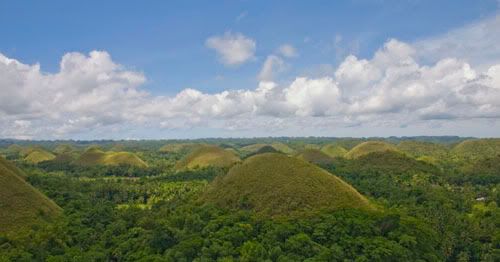 The Chocolate Hills are described as large, perfectly round, chocolate kiss-shaped mounds that dot the surrounding area. I was expecting large brown hills, but the Chocolate Hills are now grass covered and fuzzy. According to the plaque, the hills "were formed ages ago by the uplift of coral deposits and the action of rainwater and erosion." The main site is the tallest mountain in the area, providing a scenic overlook that stretches for miles in every direction.
The Chocolate Hill also featured myriad flora and plenty of tourists. There was a 25 peso per person charge to get onto the mountain itself (amounting to about $2.50 for the lot of us), and a jumping, aerial photo op complete with witches broom was available at the top. Tucked into one side of the mountain was a Catholic shrine surrounded with multicolored flowers. All in all, the views were spectacular.
---
As we took off for our next stop (the hanging bridge, which we skipped due to construction), I realized we hadn't even gotten the name of our driver. He passed me a card when I asked: Cresente "Cris" Balaba. If any of you want his phone number for a future tour, let me know.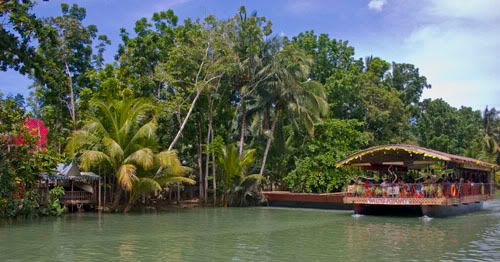 With two more stops slated before lunch and it already being nearly eleven, we decided to skip straight to the eating. Lunch was a river cruise on a boat. These wide boats had live musicians and buffet full of delicious Filipino food. For nearly an hour and a half, we slowly cruised down the river, sipping beers and munching. We even dropped an extra 300 pesos to bring Cris along with us. He ended up sitting at his own little table, chowing like there was no tomorrow, but I still felt good about it.
Along the way, several boys hopped out of the water and clung to the side of the boat. There were signs saying not to give them coins, but they didn't ask for any. Denise joked that the river must've become supersaturated with kids, forcing one out.
Now with our bellies full of delicious goodness, we moved on to the next stop: Tarsiers.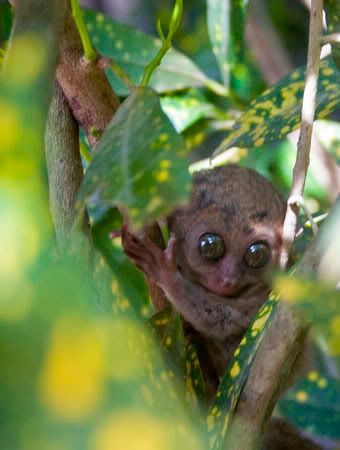 Tarsiers are a little like tiny monkeys with giant eyes. They're super cute and nocturnal, which means our visit was perfectly timed during nap time. It took a while to find one with its eyes open for a picture. While Denise and Rob squeeed over the Tarsiers, I walked down the road and took a look at some of the farms that lay in the surrounding area.
Cris said our next stop would be the oldest church in Bohol, foundedin 1595. We, meanwhile, were more interested in beaches. As we got off the boat, we saw an advertisement for a beautiful white sand beach called Panglao. When we mentioned the beach to Cris, he said because it was so far from our route, it would be another 1500 PHP to get there. Screw that.
The road we were on ran right along plenty of waterfront property, and as we passed, we could see that many houses had groups of small huts lining the beach for rent. The Baclayon area had the same beautiful white sand beaches as Panglao without the added cost or distance. After passing several, Denise spotted one she liked, and we pulled over.
They didn't have a shower or change room, so we made do and dove into the water, languishing in the late afternoon sun. The woman who owned the huts wandered across the street and got us some glasses and beer, and though Jhoan forgot to bring a swimsuit, the lady lent her a pair of boxers and a T-shirt so she could swim with us.
I'm not sure any experience this trip has been more enjoyable than swimming and relaxing by the beach, the four of us. For three hours, we swam, played catch, drank, and had a grand old time. And as we watched the sun trace long shadows across the water, glinting off the breaking waves, we got out, dressed, and climbed back into the van to head home.
---
Despite our earlier insistence that we didn't want to stop at any of the other locales, we still had a few minutes to waste before our tour time was up. Cris pulled over at the Church without any comment from us and I ran around snapping photos of the beautiful stone building for fifteen minutes.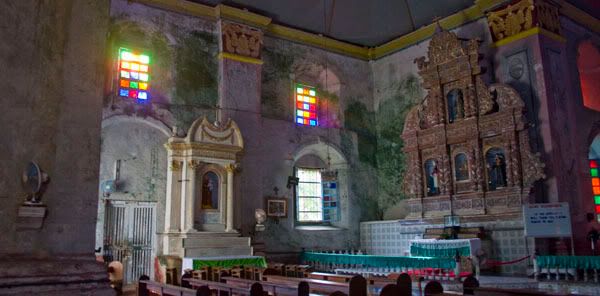 He briefly pulled up at the Blood Compact Monument, but we waved him on before he deposited us back at the docks. With it only quarter till five, we still had over an hour left before the SuperCat home began to board. I suggested we hit a mall or market, so Jhoan found us a couple of trikes and off we went.
SIDE NOTE: In the Philippines there seem to be five modes of land transport: bus, taxi, multicab, jeepney and trike. Multicabs are like jeepneys, but with a much slicker and newer design. Trikes, however, are simply strange. They're a motorbike with awnings and a side-car and they bump along at 20-25 MPH tops. If you're traveling with luggage, they have racks that fold out or small trunks built into the back of the side-car. The big downside is that there's barely enough room for me crunched down there, let alone enough room to sit up and have my head not slam repeatedly against the top.
At the mall, Denise was told she could use the bathroom for 10 pesos or free if she had a receipt. We picked up a few much needed items only to find out that it was 10 pesos either way. After a good hour of wandering the mall, getting snacks and water for the trip, ruffles and facial scrub for Denise, and dietpep (the local generic Pepto Bismal pills) just in case of emergency, we grabbed a couple trikes and headed back to the docks to catch the SuperCat.
By the time we got home, we were tired, content and hungry. The rest of the family met us at the door, with Frederick standing outside and rushing in to herald our arrival. We all sat down for a lovely meal at the hotel restaurant before calling it a night and crawling into bed.
It was easily the most perfect day I could've imagined.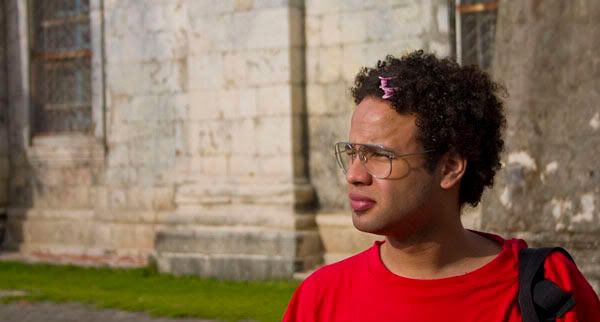 « And Now Jollibee Delivers! (For Fatass Shut-ins)