Sharing a Dream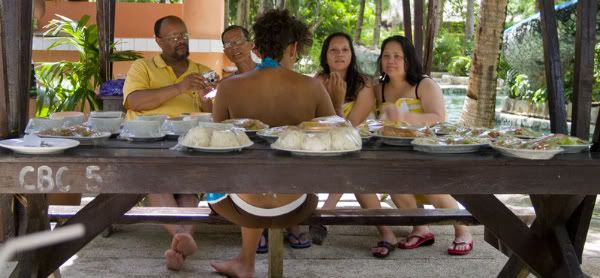 The Last Supper (in Cebu)
Robbie, Roger, Denise, Bandit and Vickie wait to eat lunch.
Click here to see more images from the Philippines.
The more time I spend traveling with people, the more I'm glad I'm not married yet.
Don't get me wrong, I'm still very much interested in settling down and having a family, but when traveling, the more people you have, the more opinions you have, the more unhappy campers you have. Nobody is of the same mind, and it can be hard.
When we arrived back in Manila, I was wiped. The car we were in was so old and broken down (despite being very pretty on the outside) that it was rubbing the wheel wells against the tires as we drove. This being the case, I decided to hang out in our two bed, four person hotel room and take a shower (to get all the hair off from the haircut that evening).
I figured they'd be back early enough to chat for a while and then crash out. Instead, they arrived shortly before midnight, Denise's brother Rob still wired from the flight from Japan, despite it being an hour later there. I figured a little hanging out would be fine, and then we'd crash.
That might've been mistake number one. If so, then mistake number two was accompanying Rob down to the 7-Eleven to pick up some drinks (alcoholic, of course). Denise had requested whatever Rob was drinking, but Rob chose to get four different bottles (including one non-alcoholic apple drink which ended up mine by default), despite the fact that Jessie was still hanging out.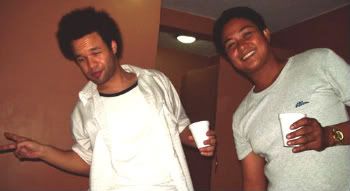 As we polished off the round, Rob and Jessie left the room, conceivably to smoke a cigarette and to hang out with the cool kids smoking cigarettes respectively. I took this opportunity to disrobe into my sleep gear, turn out the light and crawl into bed. That was mistake number three.
Just as I began to nod off and fall asleep, Jessie and Rob returned. With them was their good friend Bottle of Cheap Wine, or Winey to his close pals. Despite my desire for sleep, the light instantly went on and I found myself too stunned to protest. I felt slightly elated that Winey wasn't accompanied by his buddies Bottle Opener and Cork Screw (since without them, Winey is just a warm bottle to hold on to), but then Jessie somehow MacGyvered Winey open and the party started.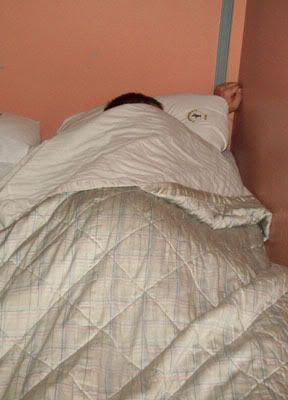 I lay there (see fig. A), praying to six pound, eight ounce, shining baby Jesus that they'd just shut up and go to bed, but sadly, my needs were not in mind. It seemed forever and a half that they loudly clanked (I'm not sure how) their styrofoam cups, the flash on Jhoan's camera flickering every few minutes to make sure I was awake and could have no respite despite my personal desires.
Occasionally, I'd hear my name, or one of my new nicknames, flung across the room like a boomerang in an enclosed space, clanging off the walls ineffectively. I just pretended to be asleep, but alas, I was not.
When all was said and done, it was nearing 2 AM. Jessie said his goodbyes, grabbed some laundry, and headed off into the sunset. Rob crawled into bed with me and the lights went out. I dropped like the greatest DJ in the world: hard, fast, and furious.
The problem with being the dissenting member of a small group is that it's hard to find a compromise all the time. A few days later I found out that Denise was of like mind as me, but decided to join them in their revelry rather than join me in my silent somnolent protest. If we had both spoken up, perhaps we would've brought sanity to the party. Or maybe we'd have lost anyway. Either way, being in the minority is tough cookies.
A few days later, when we arrived in Cebu, Denise's dad Robbie and I were discussing a day trip to Bohol.
SIDE NOTE: A brief geographical breakdown of the Philippines is as follows (see corresponding map): the main Island featuring Manila in middle, Subic in the West, the Cordillera Mountains in the North and Lake Taal in the South is Luzon. The major island in the Southern reaches is Mindanao and off to the West is Palawan, which supposedly features the best beaches available in the PI. Smack dab in the middle of these three regions are the Visayas, a series of smaller Islands including Cebu, Bohol, Leyte (where Denise's family is from for the most part) and Panaye among others. Cebu seems to be the main destination, with the others available via rickety planes or boat.
Bohol had three SuperCat shuttles available from the Cebu Docks: 8 AM, noon, and 4 PM, with returning ferries at 10 AM, 2 PM, and 6 PM marking the last chance to get back. Bohol, being a reasonably large Island with a number of interesting locales to visit, would take several days to truly explore, so I felt waking up at 6 AM and grabbing the first shuttle would be the best bet, giving us a full day on the Island and getting us back to the hotel in Cebu around 8:30, 9ish. Robbie, meanwhile, wanted to grab the noon shuttle so we could sleep in (though the 10-year old Frederick would wake everyone up by 7:30 anyway).
We went back and forth on this rather vigorously, eventually agreeing to try it my way. In the morning, however, Robbie had decided to forego the trip, leaving it Jhoan, Rob, Denise and me (which was probably better anyway).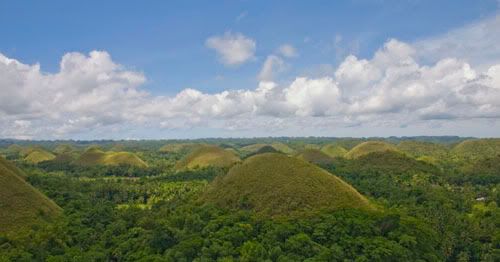 Though the trip to Bohol was absolutely amazing and likely the highlight of my stay in the Philippines, it just goes to show that there's no pleasing everyone. Vickie (Robbie's wife) and Bandit (Frederick's Mom) wanted to shop and not go, which spurred Robbie to drop out, since he felt Frederick (who wanted to go where Uncle Robbie went) needed to spend more time with his mother (since she lives here and Frederick lives in the US with Denise's dad).
The following day, the entire troupe met up with more extended family for a day at the Cebu Beach Club. And as fun as it was, I felt seriously out of place most of the day. It was the first time since my first real night here that I felt like a true outsider. I was the only one not related. And though I could swim and eat and play with the others, they treated me differently.
Denise, Rob, and Robbie are black Americans, but I'm the big white American. They're family, I'm not. "Americano," I'd hear whispered on their lips. All I wanted to do was go back to the hotel, crawl into bed and laze about, but I felt stuck. Despite the fact I was at a beautiful pool with wonderful people, I felt trapped. Everyone was kind and friendly and smiled as I hid behind my camera, yet I couldn't help but wonder why I felt so out of place.
Tonight, after a long day of traveling from Cebu to Manila by plane and on to Angeles by bus, I declined a trip to the clubs with most of the clan. I was torn between feigned obligation and a need for some emotional respite. I hope that it's homesickness or road weariness that's thrown me off the last few days. If it's anything else, insanity may well be gaining a foothold in my mind.