Too Big for the Philippines
I don't know what gave me the idea that I'd be able to get flip flops on the road. Lord knows I have enough trouble finding shoes and clothes my size in the states, let alone in a land where I literally dwarf the masses in all directions.
I wear a size 13 shoe (that's 12 UK, 47.5 European, though I can wear a 12 US if it's extra extra wide). From the first day here, I didn't even see a pair of sandals close to my size. In US sizes, they maxed out at 10 in most places. In European sizes, they stopped at 44. As Denise pointed out, people of our body type don't exist here outside of the occasional tourist.
Arriving in Subic Bay with their renowned beaches (of which I saw one and couldn't figure out if another even existed), I knew I needed sandals.
The plan was simple: wake up, get breakfast (or not, depending), do the Safari for a couple hours, head into town for lunch and to find sandals (and swim wear for Jhoan), hit the hotel for a brief nap, and then hit the beach for nice quiet dinner in the sand.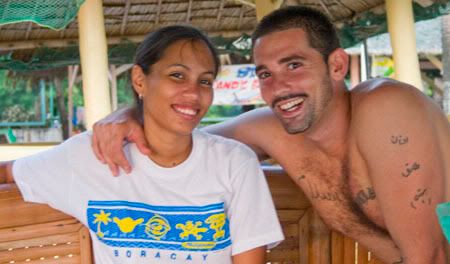 Stephanie and Agnon in our shack by the beach.
For more friendly pictures from the Philippines, click here.
The safari went smoothly enough, but it was already 1 PM by the time we arrived back at hotel to grab a quick change of clothes. We wandered across the bridge to Olongopo City, ignoring the massive number of cabbies screaming "Taxi!" "Taxi, Sir!" "You need taxi, yes sir!" The mall was just across the bridge, but at the pace we were going, it still took an eternity to wade through the heat and crowds and find ourselves inside.
The Olognopo Mall is tiny. It has two floors, each of which is packed brimming with stalls in every possible open area. Upstairs, an entire wing is dedicated to a market made up mostly of clothing stalls. Occasionally, we came across a stall of chatchkis or sandals and one of musical instruments.
We wandered around for some time, trying to find some sandals. None of the stalls or stores had any in my size. One store, however, recommended a little stall tucked in a back corner. For 150 pesos ($3), I picked up a cheap pair of knock off Levis flip flops. It's more than most would spend, but compared to Anthony, who dropped nearly $10 on a rip off pair of Tommy Hilfiger sandals, I made out like a bandit. The sandals were only size 44, so already I was kind of screwed anyway.
After Anthony burned some more cash on a shirt and Jhoan picked up a cute sleepwear ensemble (since swim wear didn't seem available), we wandered downstairs to Chow King, a major chain of quick serve Chinese Food. We stared at the menu arguing for a good ten minutes before we finally agreed on what to order. Unfortunately, the menu wasn't clear enough, so another 3 minutes of arguing over the option of fried wontons occurred when I finally tried to order.
With that done, we spent nearly 30 minutes waiting for our food. They even screwed it up and forgot the chicken. My biggest beef about the food here is that unsweetened iced tea simply doesn't exist. It's always sweetened. Always. It's killing me (and my teeth) and it doesn't even taste good.
With lunch finally over, we waddled back to the hotel completely busog (full). Despite my best efforts, it was nearly 4 and Stephanie, Agnon and Bebo were going to meet us in merely an hour–hardly enough time for a nap. The sandals I got were tight, as expected, and left a gross black residue on my feet and we met them at the taxi.
The beach itself was a 10 minute cab ride away. Apparently Subic doesn't actually have any beaches that don't require a cab ride. When we arrived, there was an entry fee, a fee for a small shack to put our stuff, fees for towels (I brought my own) and fees for water toys and rentals. There was even beachside video karaoke available.
All my annoyance at the commercialism of it all melted away as soon as I dipped myself into the salty sea water. There, floating on my back as the waves rolled over me, all the stress of travel melted away. We must've played int the water nearly two hours before I stood up and noticed how beautiful the sun looked as it crawled behind the mountains. Truly, I had reached paradise.
Eventually, after Anthony, Denise and Bebo were done enjoying the water tricycle he rented, we all piled into the shack and enjoyed a home cooked meal Stephanie had brought for us. It was the best possible end to the day, completely taking my breath away and putting me in absolute bliss.
As the day wound down, we knew Anthony would be on duty the following day, so we said our goodnights and crawled into bed.
---
I really wanted to sleep in, but alas, it was not to be. I awoke around nine in the morning rested and refreshed. Not wanting to wake Denise, I sat on my computer downloading the pictures and getting them all set up for posting. Around 11, Denise called, wondering if we were up. We wandered around the bay until we found the Pancake House, where we stopped for a very expensive breakfast.
As we swung up by the water, my sandals broke, a mere day after getting them. Needless to say, I was not happy. We headed back to the hotel before joining Agnon, Bebo and a veteran we called Oldboy (though I swear his name is Allan) for an Anthony led tour of the submarine. I chose not to bring my camera, since I'd have plenty of chances to take pictures when I'm in Guam.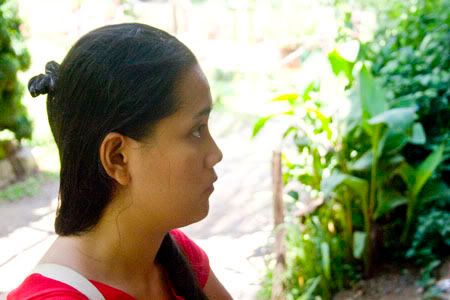 Jhoan bought us all Halo Halo, a locale shaved ice dessert on the way back to the hotel. We said our goodbyes and decided to have a lazy afternoon in the hotel.
---
Despite Denise's cries of wanting to go back to the Pancake House for every meal we had left, we decided to head out to Olongopo city for a cheaper dinner. We walked up and down the main strip, unable to find good food at a good price someplace with aircon. Eventually, we settled on Kong's Restaurant.
The food there was good, but not great. We ordered Adobo, which came undercooked and kind of nasty. Still, for once I was amazed to find unsweetened iced tea. It was so delicious. While placing our order, the rain hit. The thunder was so loud, our waitress was literally cowering in fear. Twice, she apologized for grabbing my arm. We decided to try and wait out the rain and ordered a sundae to pass the time.
As things slowed down, we began the trek back, picking up rum (35 pesos for a 250 ML) and coke (57 pesos for a 1.5 liter bottle) on the way. Back at the hotel, we mixed a few drinks, watched a movie and called it a night.
---
Anthony returned from the boat around 9:30 hellbent on riding go-karts. We walked out to the Mall for a breakfast/lunch, hit the arcade briefly as Denise bought some schwag for her friends and family, and then did go karts. It took me a few laps to figure out how to drive, but I pulled it close towards the end, finishing only 1 car length behind Anthony.
We wandered back to the hotel for a nap and shower before going to Auntie Millie's for our last dinner in Olongopo. As before, it was delicious, the company was wonderful, and I felt blessed to have such kindness and hospitality offered to us. With our goodbyes said, we headed back to the hotel and crawled into bed.
The next day, Anthony would be back on the sub with the rest of the crew and we'd be on a bus to Manila to meet Denise's brother Rob before flying to Cebu. I don't think any of us slept well that night, though I'm not sure if it was anticipation that kept us up.