From City to Bay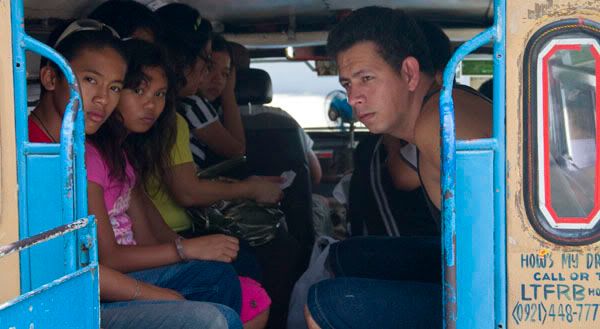 The crowded inside of a Jeepney.
See more images by clicking here.
There are times when I've felt as if this isn't a trip, but just a series of travel days strung together.
When I arrived in Manila after nearly 20 hours of travel, I had just enough time to crawl into bed, grab some breakfast, hit the mall and post an entry before climbing onto a bus for Angeles City. By the time we arrived in Angeles, I just wanted to catch up on sleep, but my nap was cut short for dinner plans and a trip to the go-go clubs. It wasn't until my third day here that I finally felt like I could relax.
Angeles City is a very visceral experience. The sex trade, as I've mentioned, is rampant. The city is full of slums and debris behind even the nicest veneer. There are armed guards at the hotels, even the cheap ones like the one was stayed at. I couldn't decide whether I should be fascinated or afraid wandering the streets unescorted. Though not as common as it was in Manila, I was accosted at every street corner with offers of goods, taxis and sex, as well as beggers requesting money or food. Each time I held my gaze straight ahead and kept walking, my heart broke a little.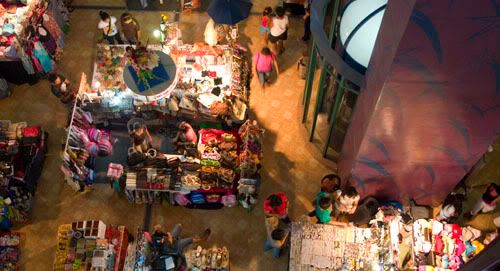 That first day in Angeles, we went to the mall. I've never been a big fan of shopping. As with most guys, I shop to fill a need. I make a list, go get it and return as quickly as possible to resume life where I left off. There's a certain amount to be said for experiencing the local culture the way the locals do, but spending a day at the mall is not my idea of fun.
Even on a Monday, the mall in Angeles was packed to the brim. Everywhere I looked were groups of Filipinos hanging out and shopping. I still have difficulty figuring out how many people can shop like that while seemingly not having a job or an income.
The only item I was truly interested in finding was a pair of sandals. It had been my plan to buy flip flops or other sandals as I went along on this trip. Of course, had I thought seriously about it, I would've realized the error in this thought process. Even in America, it's difficult to find shoes in my size. I sit right on the large end of the spectrum found in most stores, and if it's not a specialty shoe store in the States, odds are I can't find anything.
I wear a 13 US, 12, UK, 47.5 Eur. The highest I've found here is an 11 US and a 44 Eur. I wasn't about to waste money on sandals that were too small, so I ignored them for the time being.
On day one, Denise, much to my dismay, took us to Pizza Hut for lunch. Not a huge deal, since I wasn't all that hungry, but when traveling, I prefer to eat locally. The Philippine Islands are a mess of chains and seem to have very few local places. When they are local, Jhoan often says they're not safe. I've had the chance to eat Filipino dishes at most meals (except the Italian restaurant we went to and the various pizza places), but outside of being hosted by family, it's been primarily chains.
After the mall, we returned to the hotel and I went swimming. The girls didn't join me, though they lounged poolside as I enjoyed the water. Given my trip to the clubs the night before, I asked Denise if she wanted to see them. As expected, she did. I'm not sure she grasped how this would be different than clubbing, but I'm not sure I had either.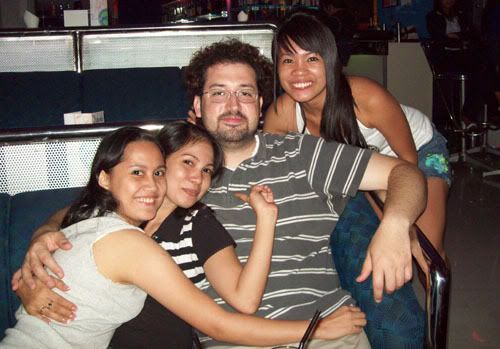 Lin Lin once again joined us as we headed in town. On the way, her younger sister Jackie spotted us and tagged along as well. With this new Entourage, we returned to the Blue Nile, which had the best dancers of the places we glanced into the previous night.
As the girls watched the dancers, I began downing Gin and Tonics, which were glowing blue under the blacklight. They got progressively stronger as the night wore on and Denise and I formulated a theory that depending on how much you drank, they changed the color of the straw to indicate how strong to make it. This theory was blown when my third glass (nearly all gin) arrived with the same color straw as my first glass.
There was a man in his late forties who was very drunk at one of the tables. He very overtly fondled a young Filipino girl until he was brought some sort of contract. As he leaned over the paper, several other girls around him, is chosen girl ran behind his back and giddily jumped up and down with another worker. Their excitement was palpable and their smiles beautiful, but the thought of what the contract could be saddened me. After signing away his soul, he fell over drunkenly and whacked his head before being carried out by his chosen girl.
Mondays aren't good club nights (unlike Sundays, for some reason, in this heavily Catholic nation), so we soon moved on to wandering the strip. Lin Lin, Jhoan and Jackie would lead us into a place, look around, and then leave immediately if it looked like the dancing was bad. They eventually settled on Club Atlantis.
The club had multiple floors, all of which overlooked a large stage. On the wall above the catwalk along the second floor, they projected music videos of the songs they played. Only a couple of the dancers truly seemed comfortable on stage, though by now we were used to it. Denise, Lin Lin and Jackie danced a lot as the music here was much more club-like.
As the clock neared one, the bitter taste of the worst Long Island Ice Tea I had ever been served still tingling on my tongue, we finally left. Denise had a very similar reaction to the clubs as I had, though we all had a good time. It's not easy to put the implications of the locations away, but if you can lose yourself in the music or the liquor, it's not that hard.
---
The following morning, we planned to head downtown and see Angeles City proper before grabbing a bus on to Olongopo and Subic Bay, where Anthony's submarine was docking for a few days. The downtown area was once again primarily malls, but after grabbing a brief lunch, I persuaded Jhoan to lead us through the street market.
The smell of fish was horrific at times, as by now it was early in the afternoon and the heat had dried out most of the items. Many of the stalls trafficked in baubles and copied DVDs. We saw a combo pack for $3 of the new Indiana Jones and Prince Caspian. The pineapples at the fruit stalls were cut into amazing designs, though the rest of the fruit was left alone.
By the time we were done wandering the market and hopped a Jeepney back, I was dripping so much sweat, my face stung with the salty liquid. The sweltering heat in the Philippine Islands is oppressive and inescapable. Many people flee to the malls for air conditioning. Despite being the fat, white foreigner, I revel in the heat. Perhaps it's because it's not an experience I get in Colorado or Boston. Or maybe I just like it warm.
When we returned to the hotel to collect our things, the travel agent informer us that our reservations in Cebu were ready, but required advance payment. Though some places accept credit cards here, most still only take cash. Even between Denise, Jhoan and me, we didn't have enough in cash, so Denise and I ran out to the mall to hit an ATM. Jhoan remained there, marking the first time Denise had been out without a guide.
Having skipped lunch earlier, we stopped for food at the mall. When we got back to the hotel, Jhoan was anxiously awaiting. Anthony had called and was already in port. Denise, in her excitement, declared we should drop $60 on a cab to get to Olongopo in half the time. Seeing the desire in her face, I figured it was better to just go along with it.
An hour later, after crossing through beautifully terraced mountains, verdant with the jungle, we arrived in picturesque Subic Bay.
SIDE NOTE: The Subic Freeport Zone includes Olongopo City , the city of Subic, and the former naval base referred to as the SBMA (Subic Bay Metropolitan Authority, which is technically the governing body and not the locale). The SBMA has been converted into a tourist mecca. Grand hotels, a little shopping, beaches and a chance to swim with dolphins lie all throughout the area. The single bridge linking the SBMA to Olongopo City is manned by guards who ask Filipinos for work IDs or passes into the area. Crossing the bridge into the city brings about the same urban feel as Angeles and Manila, complete with market stalls, malls, dense traffic, and urban decay. It's like two completely different worlds right next to each other.
The submariners from the USS Buffalo (Anthony's boat) were sent to the Legenda, a beautiful (and very expensive) hotel. As we pulled up in front in the cab, we got there just in time to see Anthony walking up in his Spider-man shirt. The boys from the boat had complimentary rooms waiting for them, on the condition they bunk with another submariner. Anthony had permission to use Denise as his "liberty buddy" as long as he stayed in the alloted area, so we were quite adamant about finding a cheaper hotel.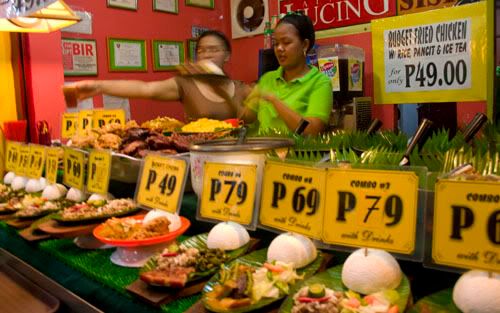 Jhoan called her cousin Stephanie, whom she had never met, and after chatting with a friend who was a bellboy at the Legenda, we were sent to the Venezia around the corner. While it doesn't have a pool or a restaurant, the Venezia's rates are much more affordable and the rooms here lovely. We spoke to a few other navy wives to find out they were spending the same amount as we were and barely had room to move in their rooms by the bay. The Venezia is only two blocks from the bridge to Olongopo, but four blocks from the bay. Given that there aren't any beaches that don't require a $4 taxi ride to get to, it's not that big a deal.
Stephanie, who is very reminiscent of a Filipino Rosario Dawson, invited us to dinner at Auntie Millie's house in Olongopo. We took a couple hours to clean up and get settled in our room before Stephanie returned lead us to family and grub.
When she arrived, we were surprised to see another American on her arm. Agnon, her boyfriend, is former army and wants to enter the merchant marine. He grew up in Indiana with his white mom and Muslim dad before ending up here a few years ago. While they're not married, we found out that Stephanie is 3 months pregnant with their first kid (she has a very young son named Bebo from another father).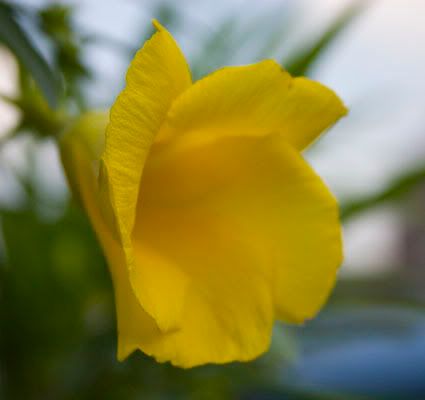 We walked the few blocks into the city, hopped a Jeepney and wound our way into the hills of the city, arriving at Auntie Millie's in less than a half hour. We were ushered upstairs and onto the porch, where we could hear the sound of boys playing basketball in the street below right beside the roving street merchants selling such local delicacies as balut.
SIDE NOTE: I pride myself on being willing to try new things. I still have to draw the line somewhere. I may dislike olives or eggplant, but I will give them a second shot every once in a while just to make sure. Balut, however, gets no shot whatsoever. If you want to know why, click the link and find out what it is. Just thinking about explaining it makes me somewhat sick. While at Barnes and Noble, I explained it to a coworker and got a formal complaint from two customers who felt ill overhearing a portion.
Auntie Millie spoiled us with food, though she didn't seem to eat with us. I devoured plenty of pancit, sisig, chicken and rice, chatting with Agnon and the rest of the family all the while. Eventually, Jhoan, Millie and Stephanie began to talk in Tagalog (pronounced Tuh-Gah-Log) while Agnon joined the rest of us outsiders chatting about military stuff. I felt a little out of touch, since I'm not really a military buff and neither Agnon nor Anthony talked about anything I could relate to (though Ant is always cool and speaks excellent Geek).
After several hours of conversing and eating and enjoying the evening in Olongopo, we were walked back to the Jeepney and headed for the hotel and a much needed night of rest. It was nice to finally be someplace calm and relaxed and for the moment, I'd revel in it.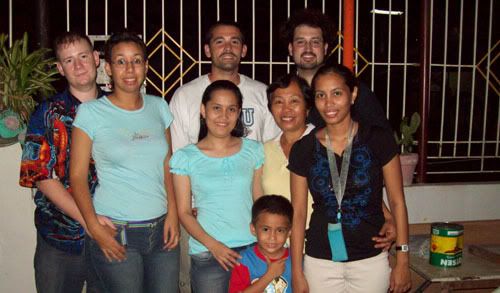 « Extremes