Spartans, What Is Your Profession!?
They kept asking if I was having fun.
"Yeah," I'd say, "it's interesting." I'm glad I went, all the same, but perhaps my hesitation was well founded.

---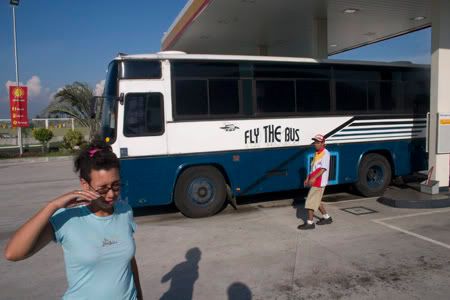 Denise and the Fly'd Bus Bus
For all my pictures, click here.
After a calm morning hitting the mall in Manila for supplies, Denise, Jhoan (pronounced Jo-ann, btw) and I hopped the Fly'd Bus bus to Angeles City in northern PI. I felt kind of bad not getting to spend much time in Manila, right now, but given the urban decay, the beggars, the merchants, the horrible smog, and the dense traffic, I felt as though the city were slightly too stifling to relax and catch up with my surroundings. Denise wanted to get out of the city anyway.
As we pulled into Angeles City, two hours to the north, a torrential downpour hit. People were scrambling for cover as the streets began to flood in moments. Even the tricycle taxis ran for cover. When we arrived at the hotel, the power was out due to the storm. They had a generator going, giving each room enough light to read by, but between the lack of power and the oppressive humidity, it wasn't long until we all ended up napping.

---
I was woken by a knock at my door. By now the rain had stopped, the air coniditioning was working, and the sun had gone down. Needing a shower to wake myself from my stupor, Jhoan and Denise headed across the street to a restaurant while I cleaned up. It took me a while to figure out how the shower worked, the unlabeled controls a mystery to my Western experiences.
The restaurant across the way had a swimming pool in the midst of it, and as I arrived, I noticed we had a newcomer. Jhoan introduced me to her "second degree cousin" Lin Lin, who had moved to Angeles City after the mudslide that wiped out their village hit a few years back.
For most of dinner, Denise and I didn't say much. We were still tired and half awake, and the strange sounds of Tagalog (or whatever dialect thereof) the two girls were speaking was like a soothing lullabye to my ears. As we finished our meal, Jhoan expressed interest in going "bar hopping." Denise wanted to sleep, and I didn't really want to go either.
SIDE NOTE: I'm not exactly the biggest bar person. I don't really drink due to the fact that I don't enjoy getting drunk or losing coordination. I don't dance, due to a traumatic experience overseas a decade ago. And I don't really like bars, since they're loud, obnoxious, and pretty much a full on meat market.

All in all, there are only three reasons I'd go to a bar:

To spend time with a friend/lady who wanted to go.
To see a band play.
For trivia/pub quiz.

Any other reason doesn't interest me.
Despite thinking I had politely declined, apparently my English isn't clear enough. A few minutes after dinner, Jhoan and Lin Lin arrived at my room to drag me out to the clubs. I dumped my passport and the majority of my cash in a safe place and headed on down the road.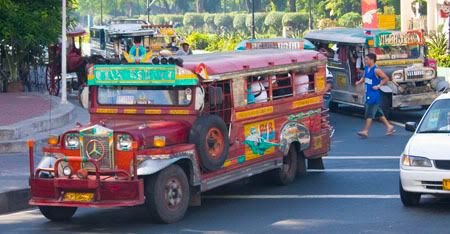 We hopped a Jeepney, which is a modified jeep combined with a flatbed truck, down the road. Jeepneys are pretty much public transport here. They cost 8 pesos (about 20 cents) to ride and have set routes for the most part. Occassionally they're private or chartered, though I only saw one.
The strip of clubs had a strange feel to them from the moment we got there. In front of each one stood a bouncer and a collection of three to six scantily clad Filipino girls (and girls they most assuredly were). As we walked past various clubs, girls would call out sir to me and approach trying to entice us in. I tried to keep my eyes on the next neon light, ignoring them and letting my companions lead me around.
We reached one called "The Dollhouse" first. As we entered, a hostess ushered us passed the cupie doll looking statue at the front entrance and up into elevated seats to the left. There were mirrors all around, making it impossible to miss the throng of 15-20 bikini clad girls standing awkwardly on a stage in the middle and swaying slightly.
SIDE NOTE: I've never been to strip club or gentleman's club. The idea has never appealed to me for several reasons, the most primary being that I know I'd sit there and deconstruct the social agenda of each person there. Other reasons include the exploitation bothering me, the oddity of going to a public place to get aroused, the cost, and the fact that I believe women should be like a gift (unwrapping them is half the fun).
After a few painful songs, the DJ announced something I didn't understand and the girls began to clear the stage. A petite girl (as I guess should be expected around here) in a rather lovely lacy black dress took center stage and began to dance. It was the first thing on that stage I didn't feel uncomfortable looking at.
That didn't last long.
As she finished her first routine, off came the dress, revealing a tiny thong and bikini top. Suddenly the dance was so overtly sexual, it was jaw-droppingly unappealing to me.
"Are all bars in Angeles like this?" I asked.
"Yes." My sense of adventure was suddenly waning at an extremely fast rate.
The girls, for the most part, all had the same polka dot pink bikini that glowed under blacklight. They wore strange white knee high platform shoes and every one had a numbered badge attached to them somewhere. Some had them on their tops, others directly over the crotch, while still others attached them to their boots.
Most of the patrons seemed to be Western, and there were only a half dozen there. Each one had a nubile Filipino on their arm. Several left with their escort at some point, likely for one of the cheap hotels nearby (such as the Dollhouse Hotel right across the street and owned and operated by the same group, most likely).
Most of the girls seemed uncomfortable on stage. A few got to move upstairs by the pool tables and overlooking it all. Those girls danced with abandon as long as they didn't notice anyone watching them. Except for a few older or drunker seeming girls in the middle, most barely swayed to the music. The few that did dance, either stared at their own reflections in the mirrors or looked pleadingly for an audience member to sate their need to be looked at.
Twice during our half hour or so at the Dollhouse, young ladies came up, sat next to me, and attempted to get my attention. I successfully ignored them, patiently waiting to leave and perhaps head back to the hotel. When we finally did leave, our bill for two run and cokes and a bottled water was a little over $5 in pesos. I was just glad to be out of there.
"I don't like the music here," Jhoan said as we left, referring to the 80s selection that included Motley Crue's Girls Girls Girls. "You want to go to another?"
Despite my current inclinations I replied, "You lead, I'll follow," the smile on my face a combination of resigned bemusement and painfully entertained.
---
Within a few short steps, we found ourselves at the mouth of a club called the Blue Nile. It had a black carbon glass front in the shape of a pyramid, mimicking the worst of Las Vegas. A sign inside said it was part of the
Blue Nile Group
. There were small booths all around the outside and a stage built on a pneumatic pump on the opposite wall. On it stood a quartet of dancers dressed as if they were ready for Jay-Z's next video.
More scantily clad women made way for us when they saw me follow the two girls in. We were ushered to a booth complete with video slots. I ordered another bottle of water out of obligation just as the music began.
The girls on stage, a troupe known as Bad Influences, could really dance. It didn't seem amateurish or forced as it had at the Dollhouse. And despite the lack of clothing, their skill not only demanded to be watched, but deserved respect. Lang Lang later told me that she liked to go watch to try and imitate the dancing, as much of it was good. I couldn't blame her after seeing those routines.
"Would you have brought Denise here?" I asked. The girls laughed.
"Only if you wanted to come," Jhoan said.
"When I first came to Angeles," said Lin Lin, "I was surprised at this. It was very uncomfortable. But after a while, I got used to it. They have good dancers. And if the girls can earn some money doing this, it's their choice." I nodded, noting these were valid points.
Every twenty minutes or so, another older Westerner would leave with a girl, sending my mind spiraling downward to the terrible nature of such an exploitative situation. The girls each wore their ID proving them beyond the 14-year-old age of consent in the Philippines. I had a sneaking suspicion that at least a quarter of those tags were fake IDs.
We sat there for quite some time. Occassionally, the girls would ask me if I was having a good time. I tried to explain how I found the experience interesting and enlightening without having fun, but I'm not sure they got it. One dancer did an erotic dance to Simon & Garfunkle's Bridge Over Troubled Waters. I'm not sure I'll ever be able to hear the song the same way.
The Blue Nile, according to a poster in the bathroom, was intended to mimic Vegas. They were attached to a casino next door, though I never wandered over. Every once in a while, one of the dancing girls would eye me. Rather than encourage it, I averted my gaze and continued my analysis.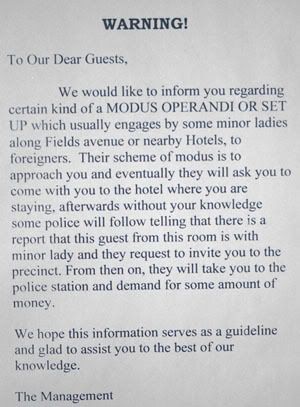 When my companions finished their drinks, we decided to head out, walking back to the hotel as they chatted in Tagalog or some variant thereof. I couldn't help but wonder how many of those girls were there voluntarily and how many actually wanted to be there. With nearly 30 girls in each of the two clubs we went to, and more than a few dozen clubs like that along the strip, I can only imagine well over a thousand girls are working in these clubs.
There was nothing overt to say improprieties were happening, but it certainly felt implied. There was never any real nudity, though a couple of girls wore sheer revealing tops at different times during the night. And while sexual discussions seemed to be happening and the dancing was generally a little too risque to qualify as risque, I couldn't have presented any evidence regardless of how hard I looked. Even the warning posted in my hotel room (shown right) isn't enough to do anything.
I'm tempted to try and go back tomorrow night with Denise, simply to get her opinion. At the same time, I don't really want to go back ever.
Perhaps time will be the only thing to give me some perspective. Then again, perhaps I'll be back there sooner than I want.
Balibago »